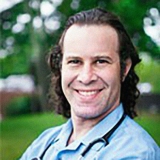 Brian Walitt, M.D., M.P.H, is Acting Clinical Director of the Division of Intramural Research (DIR) and Acting Chief of the Clinical Investigations Branch (DIR) at the National Center for Complementary and Integrative Health (NCCIH).
Dr. Walitt serves in many different roles at the National Institutes of Health (NIH). In addition to his work at NCCIH, he also serves as the Medical Officer for both the National Institute of Nursing Research (NINR) and the National Institute of Dental and Craniofacial Research (NIDCR). He is also the Lead Associate Investigator on the National Institute of Neurological Diseases and Stroke (NINDS) Myalgic Encephalomyelitis/Chronic Fatigue Syndrome at NIH protocol. Dr. Walitt collaborates with other scientists at these institutes to better understand the biological mechanisms for a wide array of symptoms, including their effects on patients and how patients respond to interventions. Increasing scientific understanding of the nature of symptoms will provide affected individuals and their families with more clarity about their symptoms and potentially translate into meaningful interventions.
Dr. Walitt obtained his M.D. from the State University of New York at Syracuse (Upstate) Medical School. He completed his internal medicine residency training at George Washington University Hospital and his rheumatology fellowship training at the MedStar Health Washington Hospital Center. He received a Master of Public Heath from George Washington University with a concentration in epidemiology. He also currently holds the title of Adjunct Associate Professor at Georgetown University and is an Associate Research Physician at the NIH.
Dr. Walitt has worked in academic medicine since the beginning of his career and has received many awards and accolades for his work. He received several extramural grants prior to working at NIH, including both the American College of Rheumatology Young Investigator and Investigator awards. He is internationally known for his clinical and research work with fibromyalgia patients.
View Dr. Walitt's research interests and selected publications on the NINR website.