Dave Clark, Dr.P.H.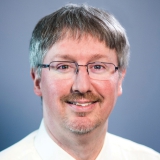 Division of Extramural Research
National Center for Complementary and Integrative Health (NCCIH)
6707 Democracy Boulevard II, Suite 401
Bethesda, MD 20892
(Courier Service - 20817)
Dave Clark, Dr.P.H., is a program director in the Clinical Research in Complementary and Integrative Health Branch at the National Center for Complementary and Integrative Health. He maintains a portfolio of grants focusing on rigorous testing of complementary and integrative health approaches and dissemination and implementation strategies for efficacious interventions. This includes pain management, treatment of military and veteran populations, health services research, economics, Electronic Health Record meaningful use, and SBIRT (Screening, Brief Intervention, and Referral to Treatment).
Prior to joining NCCIH, Dr. Clark had an extensive work history in oral health research, with 8 years as a program officer at the National Institute of Dental and Craniofacial Research, and in the substance abuse field, including 4 years of research at the University of Kentucky Center on Drug and Alcohol Research and more than 13 years of direct patient care at the VA Medical Center San Diego. He received his Dr.P.H. in epidemiology from the University of Kentucky and his M.P.H. in health services administration from San Diego State University.
Dr. Clark's Active Funding Opportunity Announcements
This page last modified May 23, 2018