Linda Duffy, Ph.D.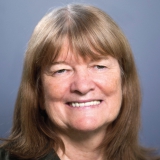 Division of Extramural Research
National Center for Complementary and Integrative Health (NCCIH)
6707 Democracy Boulevard II, Suite 401
Bethesda, MD 20892
(Courier Service - 20817)
Program director Linda Duffy, Ph.D., M.P.H., administers the translational and clinical projects portfolio for probiotics and microbiota microbiome studies under regulatory Investigational New Drugs. Particular programmatic focus has been on evidence-based safety and efficacy for specific Lactobacillus and Bifidobacterium strains, including building validation standards using innovative molecular technologies and modeling tools that can fill methodological gaps in science and inform regulatory policy. Her portfolio also encompasses translational and clinical projects for a range of natural products and mindfulness modalities, particularly in pediatrics, obesity, metabolic disorders, and microbial ecology computational models.
Dr. Duffy also serves on several NIH trans-agency workgroups, including serving as the Scientific Chair for the OD Division of Nutrition Research Coordination [DNRC] Probiotic and Prebiotic Working Group [PPWG] and the Office of Dietary Supplements Federal Working Group, the second generation Microbiome initiatives, as well as on several interagency collaborative initiatives—with the U.S. Department of Agriculture Division of Agricultural Research Service and the U.S. Food and Drug Administration.
Prior to joining NCCIH, Dr. Duffy served as a Scientific Review Officer at the National Center for Research Resources, where she was primarily involved in the NIH Roadmap projects, the CTSAs, the biotechnology and bioinformatics mapping initiatives, the Research Centers in Minority Institutions, and the Centers for Biomedical Research Excellence programs. Prior to her appointment at NIH in 2004, Dr. Duffy held joint appointments as tenured full professor and Scientific Research Director of the Women and Children's Health Research Foundation Institute in the Department of Pediatrics and in the Social and Preventive Medicine, and Roswell Park Epidemiology/Biostatistics Departments at the University at Buffalo, SUNY. During her academic tenure, Dr. Duffy's funded NIH programs included epidemiologic research methods in infectious disease and evolutionary biology and focused on integrative approaches, translational models, probiotics biology, as well as on clinical trial collaborations and validation standards initiatives in infectious/chronic diseases of the gastrointestinal and respiratory tracts.
Dr. Duffy has published more than 80 articles in peer-reviewed journals, has coauthored numerous book chapters, and is widely published in the fields of probiotic biology and pediatric and infectious disease epidemiologic methods.
Dr. Duffy's Active Funding Opportunity Announcements
This page last modified September 24, 2017