Wen G. Chen, Ph.D.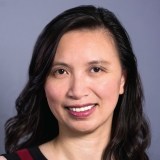 Branch Chief and Program Director
Basic and Mechanistic Research in Complementary and Integrative Health
Division of Extramural Research
National Center for Complementary and Integrative Health (NCCIH)
6707 Democracy Boulevard II, Suite 401 Bethesda, MD 20892 (Courier Service - 20817)
Wen G. Chen, Ph.D., is the chief of NCCIH's Basic and Mechanistic Research (BMR) Branch in the Division of Extramural Research. She joined NCCIH as a program director in March 2015.

The BMR Branch supports and develops research programs focusing on fundamental science research, translational research, and intervention optimization research, as well as methodology and technology development related to complementary and integrative health approaches. These approaches include natural products such as herbal medicine (including traditional Chinese herbal medicine), dietary supplements and special diets, and probiotics and the microbiome; mind and body approaches including brain-based interventions such as meditation, imagery, relaxation, and hypnosis, body-based therapies such as acupuncture, massage, and chiropractic approaches, and movement-based activities such as yoga and tai chi; as well as complex complementary approaches such as music interventions, art therapies, and nontraditional device-based stimulations. Basic mechanistic studies in model systems and human mechanistic clinical studies/trials are among the major research priorities of the BMR Branch. These areas of research are supported by the portfolios of individual program directors within the BMR Branch.
Dr. Chen's portfolio includes research and training programs related to fundamental and translational science research on acupuncture, meditation, and music and art interventions. In addition, her portfolio supports a phased innovation award for mind and body approaches to optimize their mechanistic effects, program project grants, high-risk high-reward grants, and other special cross-cutting initiative grants.
Dr. Chen currently represents NCCIH on multiple trans-National Institutes of Health (NIH) and interagency working groups and committees. She is the NCCIH Program Representative at the NIH Pain Consortium and is heavily involved in the trans-NIH HEAL Initiative on behalf of NCCIH. She also serves as a working group member for the NIH Common Fund initiative on Stimulating Peripheral Activity to Relieve Conditions (SPARC), a member of the Trans-NIH Music and Health Working Group, a member of Collaborative Research in Computational Neuroscience (CRCNS), and a member of the NIH Blueprint/BRAIN Initiative Marmoset Working Group. Dr. Chen is also leading the NIH Blueprint Interoception Working Group.

Dr. Chen's areas of expertise include neurobiology, molecular biology, biochemistry, pain, sensory and motor systems, and epigenetics. She earned a Ph.D. in biological chemistry and molecular pharmacology from Harvard University. Under the tutelage of Dr. Michael E. Greenberg at Harvard Medical School, she studied the epigenetic regulation of activity-dependent expression of brain-derived neurotrophic factor (BDNF). She also earned a master's degree in medical sciences as part of the Harvard–Markey medical scientist training program at Harvard Medical School. Dr. Chen did her postdoctoral training in proteomics at Massachusetts Institute of Technology (MIT). Prior to joining NCCIH, Dr. Chen worked as a scientific editor at NEURON, a program coordinator at the National Institute of Mental Health, and a program director at the National Institute on Aging, overseeing the research portfolio on sensory and motor disorders of aging. She has published on transcriptional and epigenetic regulation of BDNF, aging and central neural control of mobility in older adults, pharmacological management of chronic pain, harnessing neuroplasticity for clinical applications, chemical senses and aging, and proteomics. Her articles have appeared in Science, NEURON, Proceedings of the National Academy of Sciences (PNAS), Journal of Neuroscience, Journal of Pain, Pain Medicine, Brain, Journal of Gerontology, and Expert Review of Proteomics.
Dr. Chen's Active Funding Opportunity Announcements
| Title | NIH Guide # | Released | Expires | Contact | |
| --- | --- | --- | --- | --- | --- |
| Analytical and/or Clinical Validation of a Candidate Biomarker for Pain (R61/R33 Clinical Trial Optional) | RFA‑NS‑18‑046 | 09/19/18 | 03/13/20 | Wen G. Chen, Ph.D. | |
| BRAIN Initiative Fellows: Ruth L. Kirschstein National Research Service Award (NRSA) Individual Postdoctoral Fellowship (F32) | RFA‑MH‑18‑510 | 11/07/17 | 04/08/20 | Wen G. Chen, Ph.D. | |
| BRAIN Initiative: Clinical Studies to Advance Next-Generation Invasive Devices for Recording and Modulation in the Human Central Nervous System (UH3 - Clinical Trial Required) | RFA‑NS‑18‑023 | 12/21/17 | 10/22/20 | Wen G. Chen, Ph.D. | |
| BRAIN Initiative: Next-Generation Invasive Devices for Recording and Modulation in the Human Central Nervous System (UG3/UH3 - Clinical Trial Required) | RFA‑NS‑18‑021 | 12/21/17 | 10/22/20 | Wen G. Chen, Ph.D. | |
| BRAIN Initiative: Development and Validation of Novel Tools to Probe Cell-Specific and Circuit-Specific Processes in the Brain (R01 Clinical Trial Not Allowed) | RFA‑MH‑19‑136 | 05/03/18 | 09/10/20 | Wen G. Chen, Ph.D. | |
| BRAIN Initiative: Development of Novel Tools to Probe Cell-Specific and Circuit-Specific Processes in Human and Non-Human Primate Brain (UG3/UH3 Clinical Trial Optional) | RFA‑MH‑19‑135 | 08/03/18 | 09/29/20 | Wen G. Chen, Ph.D. | |
| BRAIN Initiative: New Concepts and Early - Stage Research for Large - Scale Recording and Modulation in the Nervous System (R21) (Clinical Trial Not Allowed) | RFA‑EY‑18‑001 | 03/02/18 | 10/30/20 | Wen G. Chen, Ph.D. | |
| BRAIN Initiative: New Technologies and Novel Approaches for Large-Scale Recording and Modulation in the Nervous System (R01 Clinical Trials Not Allowed) | RFA‑NS‑18‑020 | 03/14/18 | 10/30/20 | Wen G. Chen, Ph.D. | |
| BRAIN Initiative: Next-Generation Invasive Devices for Recording and Modulation in the Human Central Nervous System (U44 Clinical Trial Required) | RFA‑NS‑18‑022 | 12/21/17 | 10/22/20 | Wen G. Chen, Ph.D. | |
| BRAIN Initiative: Optimization of Transformative Technologies for Large Scale Recording and Modulation in the Nervous System (U01-Clinical Trials Not Allowed) | RFA‑NS‑18‑019 | 03/14/18 | 10/30/20 | Wen G. Chen, Ph.D. | |
| BRAIN Initiative: Research Opportunities Using Invasive Neural Recording and Stimulating Technologies in the Human Brain (U01 Clinical Trial Required) | RFA‑NS‑19‑001 | 08/28/18 | 10/20/20 | Wen G. Chen, Ph.D. | |
| BRAIN Initiative: Research Resource Grants for Technology Integration and Dissemination (U24 Clinical Trial Not Allowed) | RFA‑NS‑19‑006 | 10/22/18 | 06/28/21 | Wen G. Chen, Ph.D. | |
| BRAIN Initiative: Targeted BRAIN Circuits Planning Projects TargetedBCPP (R34 - Clinical Trials Not Allowed) | RFA‑NS‑18‑014 | 12/14/17 | 11/10/21 | Wen G. Chen, Ph.D. | |
| BRAIN Initiative: Targeted BRAIN Circuits Projects- TargetedBCP (R01 Clinical Trial Not Allowed) | RFA‑NS‑18‑030 | 04/19/18 | 11/11/20 | Wen G. Chen, Ph.D. | |
| Discovery of Biomarkers, Biomarker Signatures, and Endpoints for Pain (R61/R33 Clinical Trial Optional) | RFA‑NS‑18‑041 | 08/02/18 | 03/13/20 | Wen G. Chen, Ph.D. | |
| Exploring Epigenomic or Non-Coding RNA Regulation in the Development, Maintenance, or Treatment of Chronic Pain (R61/R33 Clinical Trial Optional) | PAR‑18‑742 | 04/03/18 | 02/12/21 | Wen G. Chen, Ph.D. | |
| Fundamental Science Research on Mind and Body Approaches (R01 - Clinical Trial Optional) | PA‑18‑323 | 10/13/17 | 01/08/21 | Wen G. Chen, Ph.D. | |
| Fundamental Science Research on Mind and Body Approaches (R21 - Clinical Trial Optional) | PA‑18‑322 | 10/13/17 | 01/08/21 | Wen G. Chen, Ph.D. | |
| HEAL Initiative: Clinical Devices to Treat Pain (UH3 Clinical Trial Optional) | RFA‑NS‑19‑018 | 12/10/18 | 02/23/21 | Wen G. Chen, Ph.D. | |
| HEAL Initiative: Translational Development of Devices to Treat Pain (U18 Clinical Trial Not Allowed) | RFA‑EB‑18‑003 | 12/10/18 | 02/23/21 | Wen G. Chen, Ph.D. | |
| HEAL Initiative: Translational Devices to Treat Pain (U44 Clinical Trial Optional) | RFA‑NS‑19‑017 | 12/10/18 | 02/23/21 | Wen G. Chen, Ph.D. | |
| HEAL Initiative: Translational Devices to Treat Pain (UG3/UH3 Clinical Trial Optional) | RFA‑NS‑19‑016 | 12/10/18 | 02/23/21 | Wen G. Chen, Ph.D. | |
| NIH Exploratory/Developmental Research Grant Program (Parent R21 Basic Experimental Studies with Humans Required) | PA‑19‑092 | 11/28/18 | 01/08/22 | Wen G. Chen, Ph.D. | |
| NIH Exploratory/Developmental Research Grant Program (Parent R21 Clinical Trial Not Allowed) | PA‑19‑053 | 11/05/18 | 01/08/22 | Wen G. Chen, Ph.D. | |
| NIH Research Project Grant (Parent R01 Basic Experimental Studies with Humans Required) | PA‑19‑091 | 11/28/18 | 01/08/22 | Wen G. Chen, Ph.D. | |
| Research Project Grant (Parent R01 Clinical Trial Not Allowed) | PA‑19‑056 | 11/05/18 | 01/08/22 | Wen G. Chen, Ph.D. | |
This page last modified January 21, 2020