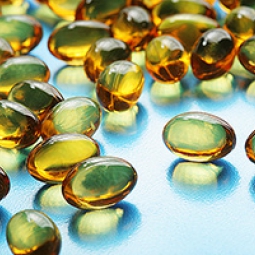 Experts agree that fish rich in omega-3 fatty acids should be included in a heart-healthy diet. However, omega-3s in supplement form have not been shown to protect against heart disease.
Scientific Evidence
A Diet Rich in Fish
Epidemiological studies done more than 30 years ago noted relatively low death rates due to cardiovascular disease in Eskimo populations with high fish consumption. Since then, much research has been done on fish and heart disease. The results provide strong, though not conclusive evidence that people who eat fish at least once a week are less likely to die of heart disease than those who rarely or never eat fish.
The 2010 edition of the Federal Government's Dietary Guidelines for Americans (2.9MB PDF) includes a new recommendation that adults eat 8 or more ounces of seafood (fish or shellfish) per week because it provides a range of nutrients, including omega-3 fatty acids. (Smaller amounts are recommended for young children.) The Dietary Guidelines report notes that eating the recommended amount of seafood is associated with reduced heart disease deaths.
Omega-3 Supplements and Risk of Heart Disease
Many studies have evaluated the effects of omega-3 supplements on heart disease risk. In these studies, researchers compared the number of cardiovascular events (such as heart attacks or strokes), or the number of deaths in people who were given omega-3 supplements with those in people who were given inactive substances (placebos) or standard care.
Most of these studies involved people who already had evidence of heart disease. A smaller number of studies included people with no history of heart disease.
The results of individual studies were inconsistent; some indicated that omega-3s were protective, but others did not.
In 2012, two groups of scientists conducted meta-analyses of these studies; one group analyzed only studies in people with a history of heart disease, and the other group analyzed studies in people both with and without a history of heart disease. Neither meta-analysis found convincing evidence of a protective effect of omega-3s.
Reasons Why Omega-3 Supplements May Not Be As Beneficial as Eating Fish
There are several reasons why omega-3 supplements may not help to prevent heart disease even though a diet rich in fish apparently does:
Eating fish a few times a week might provide enough omega-3s to protect the heart; more may not be better. A recent meta-analysis showed that either a low (1 serving/week) or moderate fish consumption (2 to 4 servings/week) was associated with a significant reduction in risk of heart disease mortality. However, consuming more than 5 servings of fish per week was associated with only a marginally protective effect on heart disease mortality.
Some of the benefits of a diet that includes regular fish consumption may be related to factors other than its omega-3 content, or result from people eating fish in place of less healthful foods.
There is also evidence that people who eat fish have generally healthier lifestyles, and these other lifestyle characteristics may be responsible for the lower incidence of cardiovascular disease.
Safety
Omega-3 fatty acid supplements usually do not have negative side effects. When side effects do occur, they typically consist of minor gastrointestinal symptoms, such as belching, indigestion, or diarrhea.
It is uncertain whether people with fish or shellfish allergies can safely consume fish oil supplements.
Omega-3 supplements may extend bleeding time (the time it takes for a cut to stop bleeding). People who take drugs that affect bleeding time, such as anticoagulants ("blood thinners") or non-steroidal anti-inflammatory drugs (NSAIDs), should discuss the use of omega-3 fatty acid supplements with a health care provider.
Fish liver oils, such as cod liver oil, are not the same as fish oil. Fish liver oils contain vitamins A and D as well as omega-3 fatty acids. Both of these vitamins can be toxic in large doses. The amounts of vitamins in fish liver oil supplements vary from one product to another.
There is conflicting evidence on how DHA might affect the risk of prostate cancer:

A 2011 study found that men with higher blood levels of DHA (which reflect higher intakes of this fatty acid) had an increased risk of high-grade (more aggressive) prostate cancer, and an earlier study found increased risks of both low-grade and high-grade prostate cancer in men with higher blood levels of DHA .
However, other studies found no relationship or the opposite relationship between blood levels of DHA and prostate cancer risk, and a combined analysis of data from multiple studies showed that eating fish, which is a good source of DHA, is associated with a lower likelihood of dying from prostate cancer.
Tips for Talking With Your Patients About Omega-3s for Heart Disease
Ask your patients about their use of complementary health practices, including whether they take omega-3 supplements. When you ask your patients, you can help ensure that they are fully informed and help them make wise health care decisions.
When talking with your patients, help them understand that:
While the evidence is quite strong and most experts agree that fish rich in omega-3 fatty acids should be included regularly in a heart-healthy diet, there isn't conclusive evidence that shows omega-3s have a protective effect against heart disease.
They should not use omega-3 supplements to replace conventional care or as a reason to postpone seeing a health care provider about a medical problem.
Although omega-3 supplements are generally safe, there are some concerns about use by women who are pregnant or nursing a child, or by patients who are taking medicines that affects blood clotting, or are allergic to fish or shellfish. Also, it is especially important that parents considering giving a child an omega-3 supplement consult their child's health care provider.