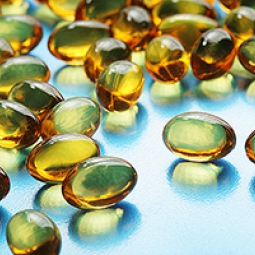 Omega-3 fatty acids have been in the news lately, after a new study raises concern about the association of omega-3s and an increased risk of prostate cancer. Omega-3s are a popular supplement used by many Americans. In fact, according to the 2007 National Health Interview Survey, which included a comprehensive survey on the use of complementary health practices by Americans, fish oil/omega-3/DHA supplements are the natural product (excluding vitamins and minerals) most commonly taken by adults, and the second most commonly taken by children.
Moderate evidence has emerged about the health benefits of consuming seafood, but the health benefits of omega-3s in supplement form are less clear. For example, the findings of individual studies on omega-3 supplements and heart disease have been inconsistent, and in 2012, two combined analyses of the results of these studies did not find convincing evidence that omega-3s protect against heart disease.
There is some evidence that omega-3s are modestly helpful in relieving symptoms in rheumatoid arthritis. Omega-3s may also be helpful for age-related macular degeneration (AMD; an eye disease that can cause loss of vision in older people). For most other conditions for which omega-3s are being studied, definitive conclusions cannot yet be reached. This issue of the digest provides information on what the science says about omega-3's effectiveness and safety for several conditions for which there is the most evidence, including heart disease, rheumatoid arthritis, infant development, and diseases of the eye and brain.
Information for Your Patients