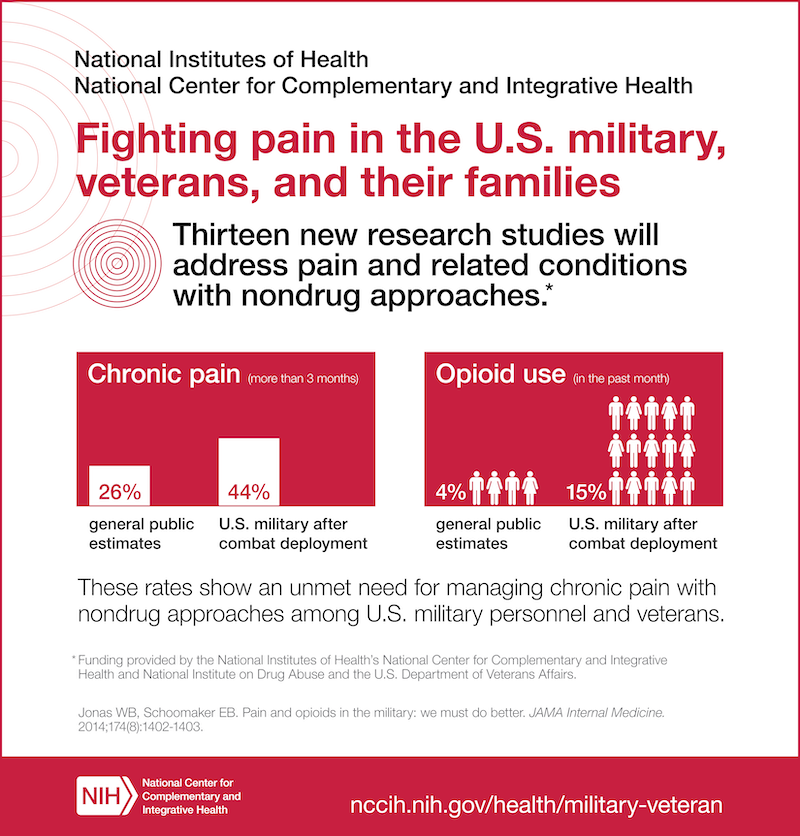 Full Text of Infographic
National Institutes of Health
National Center for Complementary and Integrative Health
Fighting pain in the U.S. military and veterans
12 research projects totaling $81 million over 6 years will address pain and related conditions using nondrug approaches*
Chronic pain (more than 3 months)
26% general public estimates
44% U.S. military after combat deployment
Opioid use (in the past month)
4% general public estimates
15% U.S. military after combat deployment
These rates show an unmet need for managing chronic pain with nondrug approaches among U.S. military personnel and veterans.
* NIH's NCCIH is leading this initiative. Other NIH cofunders include NIDA, NIAAA, NINDS, NCMRR (part of NICHD), NINR, ORWH, and OBSSR. DoD is funding this initiative through CRMRP and MOMRP. The VA is providing funding through VA ORD.
Jonas WB, Schoomaker EB. Pain and opioids in the military: we must do better. JAMA Internal Medicine. 2014;174(8):1402-1403.