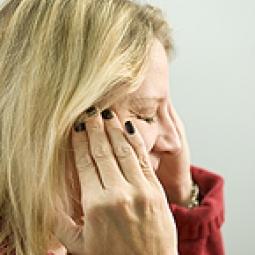 Repeating a mantram (also known as a mantra—the practice of silently focusing on a spiritual word or phrase frequently throughout the day)—may help HIV-positive individuals develop coping skills and reduce anger, according to a study published in the International Journal of Behavioral Medicine. NCCAM-funded researchers from the Veterans Affairs San Diego Healthcare System and University of California, San Francisco, analyzed the effects of a group-based mantram training program, based on data from a study involving 93 HIV-positive individuals.
Participants assigned to either a mantram group or a control group attended weekly 90-minute sessions for 5 weeks, followed by weekly phone messages and then a booster session at week 10. Mantram sessions included instruction in choosing and using a mantram, group exercises and practice, and homework assignments; control sessions, designed to provide comparable attention, included HIV-related videos and discussions. After the 5-week intervention, the mantram group reported a significant increase (25 percent on average) in use of positive reappraisal coping (handling stressful situations by focusing on positive aspects), while the control group reported a significant decrease. At a 22-week followup, anger levels had decreased in the mantram group (13 percent on average) but not in the control group.
According to the researchers, these findings suggest that repeating a mantram may help HIV-positive individuals examine stressful situations in a more nonjudgmental and accepting way, reducing the likelihood of an angry response. This is significant because reducing reactive anger may help individuals preserve supportive social relationships as well as maintain adherence to antiretroviral treatments. The researchers suggested additional studies to explore the effects of mantram on attention, cognitive processing, and acceptance-based responding.
References
Bormann JE, Carrico AW. Increases in positive reappraisal coping during a group-based mantram intervention mediate sustained reductions in anger in HIV-positive persons. International Journal of Behavioral Medicine.

;16(1):74–80.