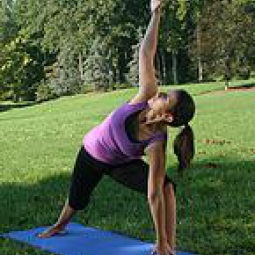 Yoga may help women quit smoking, according to results of a pilot study that researchers say is the first to examine yoga's effect on smoking cessation. Previous research has shown that aerobic exercise improves mood and reduces nicotine withdrawal symptoms and holds promise as a quit-smoking aid. The study, funded by NCCAM, was published in the Journal of Women's Health.
Researchers randomly assigned 55 women to a twice-weekly program of Vinyasa yoga (a form of yoga that emphasizes the continuous flow of movement and a focus on breathing) or a general health and wellness program for 8 weeks. All participants were given a weekly 1-hour group-based session of cognitive-behavioral therapy for smoking cessation. Participants in the wellness sessions viewed videos on various health topics, including low-fat diets and back health, participated in psychologist-guided discussions on the topics, and received handouts on the video topic.
The primary smoking outcome was 7-day smoking abstinence, called 7-day point prevalence abstinence, and was verified by a saliva test. Following the 8-week treatment, women in the yoga group were more likely to have achieved 7-day smoking abstinence (41 percent vs. 13 percent). After 3 and 6 months, participants in the yoga group continued to show greater rates of abstinence than the wellness group, but these differences were not statistically significant. Women in the yoga group also showed reduced anxiety and improvements in perceived health and well-being.
The researchers concluded that these findings provide preliminary evidence that yoga may enhance the effects of cognitive-behavioral therapy on smoking cessation in the short term. They noted that results of secondary analyses suggest that the positive effects of yoga on quitting smoking may be the result of reducing the negative symptoms associated with quitting, decreasing stress and cigarette cravings, and improving mood. They also noted that future studies should include longer treatment and followup periods, and should examine whether yoga is more appropriate, effective, or acceptable for certain types of smokers.
Reference