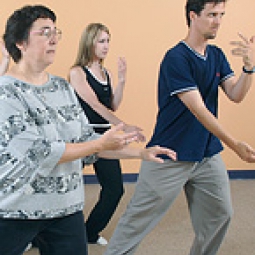 Knee osteoarthritis (OA) is an increasing problem among older adults, causing pain, functional limitations, and reduced quality of life. The traditional Chinese practice of tai chi, with its combination of physical and mental components, seems promising for OA patients; however, scientific evidence to support its use for this purpose has been limited. To strengthen the evidence base on this topic, NCCAM-funded researchers at Tufts Medical Center recently conducted a long-term, randomized, controlled trial comparing tai chi and conventional exercise in a group of 40 adults (mean age 65) with symptomatic knee OA.
The study participants were assigned to a tai chi group or a control group. Both groups attended 60-minute classes twice a week for 12 weeks. The tai chi group learned and practiced Yang-style tai chi, modified slightly to eliminate excess stress on the knees. The control group received wellness education and did stretching exercises. Participants were also instructed to perform tai chi or stretching exercises between classes, and to continue this at-home activity after the classes were finished. The researchers used several measures to monitor the subjects at 12, 24, and 48 weeks.
Compared with the control group, tai chi patients had greater improvement in measures of pain, physical function, self-efficacy (belief in one's own abilities), depression, and health-related quality of life. Although most differences between the two groups were statistically significant only at 12 weeks, the differences for self-efficacy and depression remained statistically significant at 24 and 48 weeks. No serious adverse events were reported.
The researchers recommend additional studies of biologic mechanisms and approaches of tai chi, so its benefits can be extended to a broader population.
References