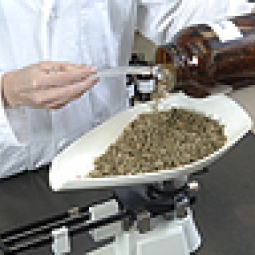 Saw palmetto is widely used by men for urinary symptoms caused by benign prostatic hyperplasia (BPH, also known as enlarged prostate)—a common condition associated with aging. The evidence of saw palmetto for BPH has been inconclusive because the trials have had design limitations (small samples, short duration, and inadequate outcome measures and blinding procedures). To address these limitations and evaluate safety and efficacy, a study cofunded by NCCAM and the National Institute of Diabetes and Digestive and Kidney Diseases used a randomized, double-blind design to look at the effects of a saw palmetto extract over 1 year in a large sample of men with BPH. The study was conducted by researchers from the University of California, San Francisco; and the San Francisco Veterans Affairs Medical Center.
In the study, 225 men over age 49 who had moderate-to-severe symptoms of BPH were randomly assigned to receive either saw palmetto extract (a 160-mg capsule taken twice daily) or a placebo for 12 months. The saw palmetto product used was a proprietary carbon dioxide extract selected by an NCCAM advisory committee, and was manufactured for the study in a single batch and analyzed for quality consistency. The treatment regimen was the same as that used in most prior clinical trials.
The study found no significant differences between the saw palmetto and placebo groups in the two primary outcome measures (scores on the American Urological Association Symptom Index for BPH, and maximal urinary flow rate) or in secondary measures (prostate size, residual urinary volume after voiding, quality of life, and serum prostate-specific antigen levels). The incidence of adverse events during the study period was also similar in the two groups.
The researchers concluded that 160 mg of this saw palmetto extract given twice daily for 1 year does not improve lower urinary tract symptoms caused by BPH. They noted that the extract's dose may not have been sufficient to produce a measurable result—a possibility they could not fully address because the active ingredient in saw palmetto, if one exists, is not known.