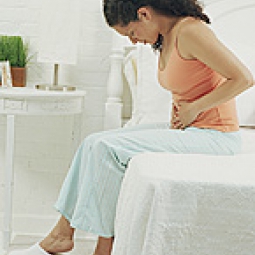 Many adolescents with inflammatory bowel disease are currently using or would consider using complementary and alternative medicine (CAM)—specifically mind-body therapies such as relaxation and guided imagery—to help manage their symptoms, according to a study published in the journal Inflammatory Bowel Disease. This disease is actually a group of disorders (including Crohn's disease and ulcerative colitis) that cause inflammation of the intestines. The physical and emotional problems associated with irritable bowel disease in adolescents often affect quality of life.
In this study, funded in part by NCCAM, researchers from the University of Cincinnati College of Medicine asked 67 adolescents (ages 12 to 19 years) with inflammatory bowel disease which of five methods (prayer, guided imagery, relaxation, meditation, and yoga) they had used for symptom management in the past month, and which methods they would consider using in the future. Participants also completed a questionnaire about health-related quality of life. Researchers found that:
The top-ranking methods based on recent use were prayer (62 percent), relaxation (40 percent), and imagery (21 percent). These methods also ranked highest for future use: relaxation (85 percent), prayer (81 percent), and imagery (55 percent).
Although fewer than 20 percent of participants said they had used meditation or yoga, more than 40 percent were willing to consider using these methods in the future.
For the most part, there was no significant relationship between participants' use of CAM and their quality of life.
Study data indicate that girls, younger adolescents, and adolescents with more severe disease or poorer health-related quality of life may be most open to trying CAM.
The researchers noted that their findings provide groundwork for future studies to determine the effect of CAM therapies on health outcomes in adolescents with inflammatory bowel disease.