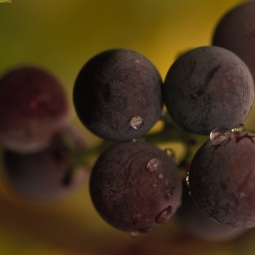 Tauopathies—a group of neurodegenerative conditions such as Alzheimer's disease—have been linked to the build-up of "misfolded" tau proteins in the brain. (Tau proteins are associated with microtubules, which help to regulate important cellular processes.) In light of previous studies indicating that grape-derived polyphenols may inhibit protein misfolding, an NCCAM-funded research center at the Mount Sinai School of Medicine recently examined the potential role of a particular grape seed polyphenol extract (GSPE) in preventing and treating tau-associated neurodegenerative disorders.
The results of their in vitro study showed that GSPE is capable of interfering with the generation of tau protein aggregates and also disassociating preformed aggregates, suggesting that GSPE may affect processes critical to the onset and progression of neurodegeneration and cognitive dysfunctions in tauopathies.
An earlier study by the Mount Sinai researchers found that this GSPE reduced Alzheimer's-type neuropathology and cognitive decline in a mouse model of Alzheimer's disease and inhibited an Alzheimer's-linked process called cerebral amyloid deposition. In another recent study, the researchers used a variety of analytical techniques to further clarify how the GSPE affects Alzheimer's-related processes; an important finding was the extract's protective effects against cellular toxicity.
The researchers concluded that their laboratory findings, together with indications that this GSPE is likely to be safe and well-tolerated in people, support its development and testing as a therapy for Alzheimer's disease.