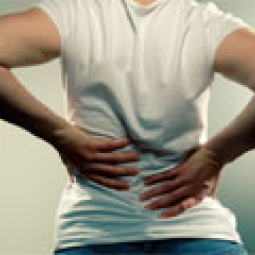 A physician's response to a patient with low-back pain (LBP) should take into account psychological and social factors as well as physical symptoms, according to an article published in The Journal of Family Practice. The article looks at two case studies in light of evidence-based clinical guidelines developed by Roger Chou et al. for the American Pain Society and the American College of Physicians. The article's authors, whose work was funded in part by NCCAM, recommend a measured approach to the use of imaging (x-rays and MRI/CT scans) and medication.
Case 1 is a 32-year-old man who experiences a sore back after stepping off a ladder and visits his physician for advice 2 days later; the physician diagnoses acute nonspecific LBP. Case 2, a new patient, is a 48-year-old man with a long history of LBP who has tried many different treatments and is currently taking an opioid drug. The authors outline considerations in evaluating each patient and choosing action steps. They highlight the following:
Evidence does not support routine imaging for patients like the patient in Case 1. In a primary care setting, few LBP cases have an identifiable cause, and symptoms of acute nonspecific LBP often improve on their own. Physicians usually should advise such patients to remain active, educate them about LBP and self-care options, and consider nondrug therapies (such as spinal manipulation and others) if pain persists longer than 4 weeks.
Evidence does not show that long-term opioid use improves functioning in patients with chronic LBP, like the patient in Case 2. Evidence does indicate that these patients may benefit from nondrug therapies such as acupuncture, cognitive behavioral therapy, physical therapy, spinal manipulation, exercise therapy, and therapeutic massage.
Psychological and social factors (e.g., depression, passivity, job problems) may play a bigger role than physical factors in determining treatment outcomes for patients with chronic LBP.
The authors also noted that most people with chronic LBP will not become pain free. Physicians can help patients have a realistic outlook that focuses on improving functioning in addition to reducing pain.