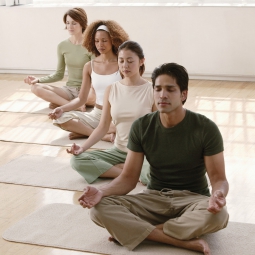 Mindfulness-based stress reduction (MBSR), a type of meditation, shows some promise as a complementary approach to improve quality of life (QOL) and decrease perceived stress in people with ulcerative colitis. These findings come from a small pilot study led by researchers at Rush University in Chicago. The study, supported by NCCAM, was reported in the journal Digestion.
Ulcerative colitis is a chronic inflammatory bowel disease that has no cure and is subject to flare-ups, which may be caused by stress. Alternative approaches are needed to help prevent and manage these flare-ups, the authors said, because people with ulcerative colitis do not always adhere to, nor obtain relief from, prescribed medications. This exploratory study tested the extent to which MBSR affected ulcerative colitis disease course, inflammation markers, QOL, and several psychological outcomes.
The 55 participants in this randomized, controlled, double-blind trial were in remission from moderately severe ulcerative colitis and had had at least one flare-up in the preceding 6 months. Those taking ulcerative colitis medication were encouraged to continue doing so. The intervention was an 8-week course consisting of weekly sessions (2 to 2.5 hours each) of teaching and practicing MBSR skills, plus homework. This was compared to a "time/attention" control—a course on mind and body medicine that was similar in format but did not include coping skills, practice, or any information on ulcerative colitis. Participants were assessed at the study's start, shortly after completion of the 8-week course, and at 6- and 12-month followup points.
The researchers found no significant differences between the MBSR and control groups in the course of ulcerative colitis disease, markers of systemic or mucosal inflammation, or any psychological assessment except one: perceived stress during flare-ups. In participants who had flare-ups, MBSR was more effective (to a significant degree) in lowering perceived stress and in preventing the characteristic drop in QOL. Importantly, MBSR was found to be tolerable and acceptable in this study population.
The researchers concluded that MBSR could be a helpful adjunct for patients in remission from moderate to moderately severe ulcerative colitis—and, possibly to decrease rates of flare-up in those with heightened stress responses. They noted that a larger study is needed to confirm their results and further explore MBSR's impact on areas such as disease course, systemic inflammation, stress response, and active (rather than inactive) ulcerative colitis.
Reference