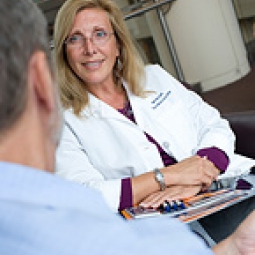 In an initial investigation of the potential for information from CAM research to influence clinical practice, a 2007 national survey asked acupuncturists, naturopaths, internists, and rheumatologists about their awareness of CAM clinical trials, their ability to interpret research results, and their use of research evidence in decisionmaking. The survey was conducted by researchers affiliated with the National Institutes of Health, the Mayo Clinic, the University of Chicago, Harvard Medical School, and the University of Massachusetts. The survey focused on awareness of two major NCCAM-funded clinical trials that studied acupuncture or glucosamine/chondroitin for osteoarthritis of the knee.
More than half (59 percent) of the 1,561 respondents were aware of at least one of the two clinical trials, but only 23 percent were aware of both trials. The acupuncture trial was most familiar to acupuncturists and rheumatologists, the glucosamine/chondroitin trial to internists and rheumatologists. Overall, awareness was greatest among rheumatologists and those practicing in institutional or academic settings.
A majority of respondents said they were "moderately confident" in their ability to interpret research literature; few—20 percent of acupuncturists, 25 percent of naturopaths, 17 percent of internists, and 33 percent of rheumatologists—said they were "very confident."
All groups regarded clinical experience as "very important" in their decisionmaking, although CAM providers were more likely to rate it "most important." Physicians were much more likely than CAM providers to consider research results very important or "very useful" in their clinical decisionmaking. CAM providers were more likely than physicians to say that patient preferences were very important. CAM providers were much more likely than physicians to rank research results as "least important," whereas physicians were much more likely to rate patient preferences as least important.
Awareness of CAM clinical trials was greatest among respondents with research experience, confidence in their ability to interpret results, and favorable opinions about the role of research in their practice.
The survey team concluded that CAM research has the potential to make a difference in both conventional and alternative medicine clinical practice. They recommend concerted efforts to better train all clinicians in interpretation and use of evidence from research studies, and to improve the dissemination of research results.