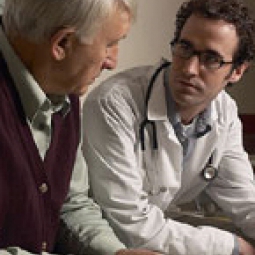 Clinical trial data indicate that supportive interactions with health care providers can benefit patients and may be especially helpful for people who tend to be reclusive (keep to themselves). In a trial funded in part by NCCIH and published in Social Science & Medicine, participants with irritable bowel syndrome (IBS) who received placebo (simulated) acupuncture had some improvement in symptoms, but those who also received support from the acupuncture practitioner experienced even greater improvement.
Researchers from Harvard Medical School Osher Research Center and other Boston-area institutions randomly assigned participants with IBS to one of three groups: wait list (assessment and observation only), placebo acupuncture alone (minimal interaction with the practitioner), or placebo acupuncture plus supportive interaction with the practitioner (detailed questions, expressions of empathy, attentive listening, etc.). Simulated acupuncture alone yielded modest improvement of IBS symptoms, but when combined with supportive interaction simulated acupuncture brought significant improvement. Upon further analysis of participant characteristics (452 background, medical, psychological, and social factors for 289 participants) to see whether some participants benefited more than others from the supportive interaction, only two factors—reclusiveness and previous trial experience—stood out. (The analysis also suggested that participants who did not receive practitioner support benefited from getting a chance to talk about their experiences in an interview.) To sift through the many factors and ensure important results weren't inadvertently eliminated, this study used a statistical technique widely used in genomics research to test thousands of genes for links to diseases.
In light of these findings, the authors recommended additional research to explore the role of patient-practitioner interactions and other social factors in healing.