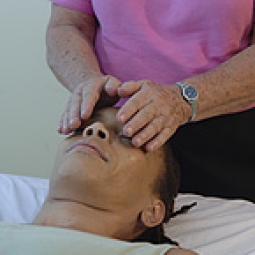 Fibromyalgia is a common, chronic condition that causes muscle pain and fatigue. People with fibromyalgia often turn to complementary health approaches, such as Reiki, to help relieve their pain. Reiki is a form of energy medicine in which the practitioner seeks to transmit a "universal healing energy" to a person, either from a distance or through light touch. In general, evidence for energy medicine is scant, but anecdotal (subjective) literature suggests that Reiki can improve pain control and psychological well-being with few or no adverse effects.
NCCIH-funded researchers at the University of Washington, Seattle, conducted a clinical trial to determine whether Reiki might be beneficial as an adjunct therapy for fibromyalgia. In the trial, 100 people with fibromyalgia were recruited (81 completed the trial) and randomly assigned to 1 of 4 groups. Each group received twice-weekly treatments for 8 weeks by either a Reiki master or an actor (sham Reiki) working either through direct touch or from 2 feet away. The researchers measured subjective pain as well as physical and mental functioning, medication use, and health provider visits throughout the trial. The participants and the researchers who gathered and analyzed data were blinded—i.e., Reiki versus sham group assignments were not disclosed.
The study showed that neither direct touch nor distant Reiki affected pain or any of the other outcome measures. The researchers concluded that adults with fibromyalgia are unlikely to benefit from Reiki. They noted that energy medicine therapies such as Reiki should be rigorously studied before being recommended to patients with chronic pain. They also suggested design considerations for such studies.