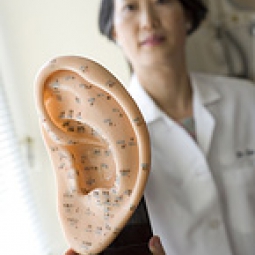 According to a study published in Archives of Internal Medicine, acupuncture may help people with chronic low-back pain—even if the acupuncture needles do not penetrate the skin. In light of previous studies demonstrating therapeutic benefits from both simulated and real acupuncture, NCCIH-funded researchers at the Group Health Center for Health Studies in Seattle compared the effects of simulated acupuncture, real acupuncture, and usual care in a large sample of patients with chronic low-back pain. This year-long clinical trial focused on the role of acupuncture needle placement and skin penetration.
The study's 638 participants were randomly assigned to one of four groups: standardized acupuncture (an eight-point treatment that acupuncture experts consider effective for chronic low-back pain); individualized acupuncture (customized prescriptions from diagnostician acupuncturists, varying in number, location, depth, and manipulation of needle insertions); simulated acupuncture (like standardized acupuncture, but without skin penetration); and usual care (various conventional approaches). Participants in the acupuncture groups were treated twice weekly for 3 weeks and then once weekly for 4 weeks. After 8, 26, and 52 weeks, researchers conducted telephone interviews to measure participants' back-related dysfunction and how much they were bothered by their symptoms.
Researchers found that acupuncture—standardized, individualized, or simulated—was superior to usual care in improving back-related function and symptoms. After 1 year, acupuncture participants were still more likely than usual-care participants to have clinically meaningful improvements in function, but not in bothersome symptoms. There were no significant differences among the three acupuncture groups.
Based on their findings, the researchers concluded that acupuncture may be effective for chronic low-back pain, but that therapeutic benefits apparently do not depend on penetrating the skin or tailoring needling sites to individual patients. They suggest future research to answer questions about acupuncture's mechanism of action, including the role of physiologic effects from stimulating the skin and of patients' expectations.