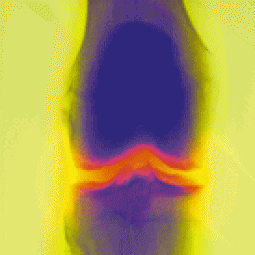 According to a large study reported in the New England Journal of Medicine, the dietary supplements glucosamine and chondroitin, taken alone or in combination, are generally ineffective for knee osteoarthritis (OA) pain—although the combination may benefit patients with moderate-to-severe pain. Because many people suffering from knee OA take these supplements, researchers evaluated their efficacy and safety in a clinical trial involving 1,583 patients at 16 sites across the United States. The Glucosamine/chondroitin Arthritis Intervention Trial (GAIT) was sponsored by NCCIH and the National Institute of Arthritis and Musculoskeletal and Skin Diseases (NIAMS).
Most (78 percent) of the GAIT participants had mild knee OA pain; 22 percent had moderate-to-severe pain. Researchers randomly assigned the participants to receive one of five treatments for 24 weeks: glucosamine hydrocholoride (500 mg three times daily), chondroitin sulfate (400 mg three times daily), glucosamine and chondroitin combined (same doses), celecoxib (Celebrex, 200 mg daily), or placebo. Participants were also permitted to take up to 4,000 mg of acetaminophen daily, except immediately before their clinical evaluations at weeks 4, 8, 16, and 24. The study's primary outcome measure was a 20-percent decrease in knee pain by week 24.
Glucosamine and chondroitin sulfate, alone or in combination, were not significantly better than placebo in reducing knee pain in the overall group of patients. However, the subgroup with moderate-to-severe pain had significant relief with the combined supplements (the researchers noted that this apparent benefit would need to be confirmed by another trial). Participant response time was much faster with celecoxib than with glucosamine, chondroitin, or the two in combination. Adverse events tended to be mild, infrequent, and comparable across the treatment groups.