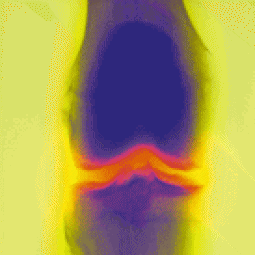 The dietary supplements glucosamine and chondroitin do not appear to be effective in slowing structural damage (loss of joint-cushioning cartilage) from knee osteoarthritis (OA), according to a study reported in the journal Arthritis and Rheumatism. The 2-year study was an ancillary component of the Glucosamine/chondroitin Arthritis Intervention Trial (GAIT). The GAIT research was sponsored by NCCIH and the National Institute of Arthritis and Musculoskeletal and Skin Diseases (NIAMS).
The ancillary study enrolled 572 GAIT participants who had moderate or severe knee OA. Researchers randomly assigned participants to receive one of five treatments for 24 months: glucosamine (500 mg three times daily), chondroitin sulfate (400 mg three times daily), glucosamine and chondroitin combined (same doses), celecoxib (Celebrex, 200 mg once daily), or placebo. The study's primary outcome measure was mean change in joint space width, as determined by x-ray, at 24 months. The final sample included 357 subjects with OA in one or both knees; a total of 581 knees qualified for analysis.
Compared with placebo, neither glucosamine, chondroitin, nor combination treatment achieved a statistically significant, clinically important difference in loss of joint space width. There was some improvement for participants with moderate OA who took glucosamine alone, but not enough to warrant any conclusions. The researchers observed that loss of joint space width was greater with combined treatment than with either treatment alone, which raises the possibility that combined use may interfere with absorption. Loss of cartilage in the placebo group was less than expected, which complicated interpretation of study findings.
An earlier, larger GAIT study found that glucosamine and chondroitin generally were no more effective than placebo in relieving knee OA pain over 24 weeks, although a subset of participants (those with moderate-to-severe pain) did benefit from combined treatment.