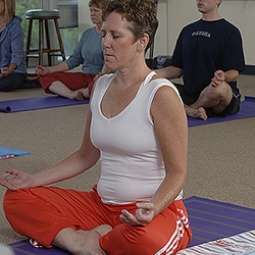 Recent research has shown that women who practice hatha yoga (a common type of yoga involving body postures, breath control, and meditation) regularly recover from stress faster than women who are considered yoga "novices." The research, supported in part by NCCIH and published in the journal Psychosomatic Medicine, also showed that yoga may boost the mood of both yoga experts and novices.
Researchers at Ohio State University enrolled 25 women identified as yoga "experts" (practiced yoga regularly once or twice weekly for at least 2 years and at least twice weekly during the past year) and 25 novices (participated in yoga classes or home practice with yoga videos for 6 to 12 sessions). The researchers assessed participants' cardiovascular, inflammatory, and endocrine responses before and after they took part in three activities: yoga practice, slow walking on a treadmill, and passively watching a video. They also measured participants' physiologic responses before and after certain stress events.
Although differences in inflammatory or endocrine responses were not unique to the yoga sessions, the researchers found that the novices' blood had 41 percent higher levels of the cytokine interleukin-6 (IL-6) than those of the experts. IL-6 is a stress-related compound that is thought to play a role in certain conditions such as cardiovascular disease and type 2 diabetes. In addition, the novices' levels of C-reactive protein, which serves as a general marker for inflammation, were nearly five times that of the yoga experts. Experts had lower heart rates in response to stress events than novices. Yoga also boosted mood in both groups, while the other two interventions (walking, video) did not.
The researchers suggested that this study offers insight into how yoga and its related practices may affect health. Regularly performing yoga could have health benefits, which may only become evident after years of practice.