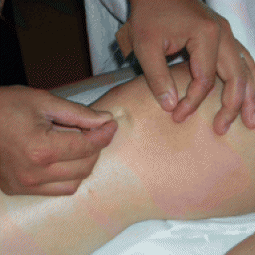 Acupuncture provides pain relief and improves function for people with osteoarthritis of the knee and serves as an effective addition to standard care, according to a landmark study published in the Annals of Internal Medicine. The study, funded in part by NCCAM and the National Institute of Arthritis and Musculoskeletal and Skin Diseases, was conducted across three sites and is the longest and largest clinical trial of acupuncture to date.
The researchers enrolled 570 patients with osteoarthritis of the knee, aged 50 and older, to receive one of three treatments: acupuncture, simulated acupuncture (procedures that mimic acupuncture, sometimes also referred to as "placebo" or "sham"), or participation in a control group. The control group followed the Arthritis Foundation's self-help course for managing their condition over 12 weeks. Participants in the actual and simulated acupuncture groups received 23 treatment sessions over 26 weeks. All study participants continued to receive standard medical care from their primary physicians, including anti-inflammatory medications and opioid pain relievers.
At the start of the study, participants' pain and knee function were assessed using standard arthritis research survey instruments and measurement tools; their progress was assessed at 4, 8, 14, and 26 weeks. By week 8, participants receiving actual acupuncture showed a significant increase in function and by week 14 a significant decrease in pain, compared with the simulated and control groups. These results sustained through week 26. Overall, participants in the acupuncture group had a 40 percent decrease in pain and a nearly 40 percent improvement in function compared to their assessments at the start of the study.
Findings from this study begin to shed more light on acupuncture's possible mechanisms and potential benefits, especially in treating painful conditions such as arthritis.
References
Berman BM, Lao L, Langenberg P, et al. Effectiveness of acupuncture as adjunctive therapy in osteoarthritis of the knee: a randomized, controlled trial. Annals of Internal Medicine.

;141(12):901–911.