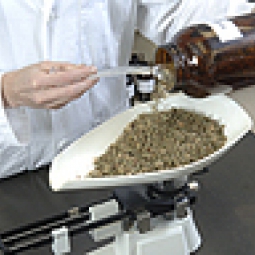 Researchers at the University of Maryland, Baltimore, used a roundworm that has some genetic and biochemical similarities to humans to examine complex herbal preparations thought to combat adverse effects of aging. The worms, called Caenorhabditis elegans, or C. elegans, have a brief life span (about 20 days). In an NCCAM-funded study, researchers assessed two traditional Chinese multiherbal formulas—Huo Luo Xiao Ling Dan (HLXL), taken for chronic inflammatory pain (e.g., joint pain from arthritis); and Shi Quan Da Bu Tang (SQDB), taken to reduce fatigue and improve general wellness. They found that cinnamon bark, a component of both formulas, increased the worms' life span.
The researchers grew the worms in liquid containing HLXL, SQDB, or the individual herbal components of the formulas (HLXL has 11, SQDB has 10). They found that SQDB significantly extended the life span of the worm; HLXL did not. The mean life span for the worms grown in SQDB was 22.3 days, an increase of 11.7 percent over the usual life span. Of all the individual components tested, only two significantly prolonged life span: Cinnamomum cassia bark (present in both formulas) and Panax ginseng root (present in SQDB only).
In light of these findings, the researchers concluded that C. elegans is a valid model for evaluating complex herbal preparations and may provide insight for future studies on longevity-promoting herbs.