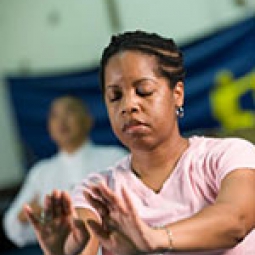 Stress management interventions may help to improve immune function and coping skills in HIV-positive individuals, according to a study published in the Journal of Consulting and Clinical Psychology. NCCAM-funded researchers from Virginia Commonwealth University assessed three interventions: cognitive-behavioral relaxation training (physical and mental relaxation techniques and active coping skills); focused tai chi training (exercises for balance, breathing, posturing and movement, and relaxation); and spiritual growth (discussions and personal journals to enhance spiritual awareness).
The researchers randomly assigned 252 HIV-positive men and women to one of the three instructor-led intervention groups or a wait-listed control group. Most participants were taking anti-retroviral drugs and had relatively low levels of self-reported stress at the onset of the study. The intervention groups met in 90-minute sessions once a week for 10 weeks. Researchers used various assessment scales to measure HIV-related psychosocial and health status. They also analyzed saliva samples to gauge levels of the stress hormone cortisol, and blood samples to evaluate immune system function.
None of the intervention groups differed from controls on measures of HIV-related psychological distress, quality of life, and health status, or on physiological stress response (cortisol levels). However, compared with controls, all three treatment groups had significant increases in lymphocyte proliferation (production of white blood cells), indicating enhanced immune function. In addition, the cognitive-behavioral relaxation and tai chi groups reduced their use of coping strategies that focus on emotions (as opposed to problems or appraisal).
The researchers noted the potentially important clinical implications of their finding of improved immune function. They recommend additional research to examine specific effects of stress management interventions in people with HIV.