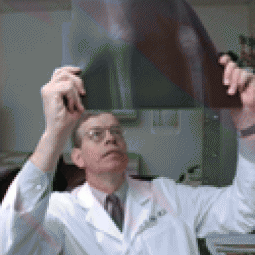 New data from a long-term study of the dietary supplements glucosamine and chondroitin for knee osteoarthritis pain reveal that patients who took the supplements (alone or in combination) had outcomes similar to those experienced by patients who took celecoxib or placebo pills. Previous studies have examined the effects of glucosamine and chondroitin on pain associated with osteoarthritis of the knee over a short duration—24 weeks. This study, part of the Glucosamine/chondroitin Arthritis Intervention Trial (GAIT) funded by NCCAM and the National Institute of Arthritis and Musculoskeletal and Skin Diseases (NIAMS), is the first to assess the safety and effectiveness of the supplements over two years.
The study enrolled 662 GAIT participants with moderate-to-severe knee osteoarthritis, who received either glucosamine (500 mg three times daily), chondroitin sulfate (400 mg three times daily), glucosamine and chondroitin sulfate combined (same doses), celecoxib (Celebrex, 200 mg once daily), or placebo. The study's primary outcome measure was a 20-percent reduction in pain scores (using the WOMAC pain scale).
All treatment groups experienced improvement in pain and function over the 2-year period, with clinically detectable improvements seen as early as 24 weeks in all groups; however, none of the treatments was significantly better than placebo. The odds of obtaining a 20-percent decline on the WOMAC scale when taking celecoxib was 1.2 times greater than the odds of obtaining this decline when taking placebo. Likewise, the odds of obtaining a 20-percent decline for glucosamine alone, glucosamine and chondroitin sulfate combined, and chondroitin sulfate alone were 1.16, 0.83, and 0.69 times that for placebo, respectively. There were no statistically significant differences among the four treatment groups. Adverse reactions were mild and occurred among all treatment groups, and serious adverse events were rare.
The researchers noted that findings from their study provide important longer-term safety information on the use of glucosamine and chondroitin as well as the use of celecoxib, adding to the existing scientific literature on treatments people use for pain associated with osteoarthritis of the knee. They also pointed out that their study data were obtained with dosages typically used to treat osteoarthritis of the knee.