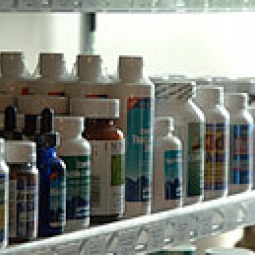 About 47 million Americans have some form of metabolic syndrome—a group of conditions that increase the risk of diabetes, heart disease, and related complications. Metabolic syndrome is often characterized by abdominal obesity, impaired fasting glucose (an increase in glucose levels), elevated blood pressure, and high cholesterol and triglycerides. It is also associated with insulin resistance, a condition in which the body cannot use insulin effectively. Previous studies have suggested that chromium picolinate dietary supplements can help people with type 2 diabetes by improving insulin resistance and increasing the body's sensitivity to insulin. However, its effects on people with a high risk for developing type 2 diabetes, especially those with metabolic syndrome, are largely unknown.
NCCAM-funded researchers at the University of Pennsylvania conducted a clinical trial to investigate the effects of chromium picolinate on glucose metabolism in obese adults with metabolic syndrome. Sixty-three people, age 18 to 75, were randomly assigned to receive either a 500-ug capsule of chromium picolinate or a placebo, twice a day for 16 weeks. During the trial, the researchers looked primarily for improvement in insulin sensitivity, and also for changes in other measurements of glucose metabolism (e.g., insulin secretion), oxidative stress, fasting lipid serums (cholesterol and triglycerides), body weight, and inflammation markers. Sixty participants completed the study.
The results of this small, single-dose study showed that chromium picolinate had no significant effect on insulin sensitivity, or other key features of metabolic syndrome. However, chromium picolinate did appear to increase the early phase of insulin secretion in response to glucose. The researchers concluded that their study does not support the use of chromium picolinate as a treatment for people with metabolic syndrome. Instead, they recommend relying on clinically proven alternatives, such as diet and exercise. The researchers also suggest studying the effect of chromium picolinate on insulin secretion in larger study samples to reproduce this finding and more fully understand its mechanism.