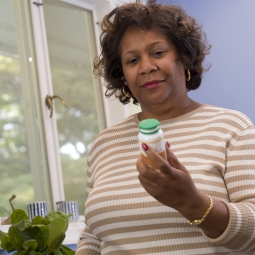 According to a recent analysis of data from the 2002 National Health Interview Survey and the 2003 Medical Expenditure Panel Survey, use of biologically based therapies (e.g., herbs or megavitamins) and manipulative/body-based therapies (e.g., chiropractic or massage) may be associated with better health outcomes among individuals age 55 years and older. Findings from the NCCAM-funded analysis were published in the Journal of Alternative and Complementary Medicine.
The 2002 survey asked participants about their use of complementary therapies. The 2003 survey asked the same participants about their functional status (ability to perform routine activities) and quality of life (aspects related to physical and mental health). By analyzing results for a total of 1,683 subjects from the two surveys, researchers were able to look for any statistical associations (connections) between use of specific categories of therapies and health status 1 year later.
The analysis showed a statistical association between ability to function and use of biologically based therapies and manipulative/body-based therapies. There was also an association between physical and mental health-related quality of life and use of these therapies, but the association was not very strong. No such associations were found for the other categories of therapies analyzed—alternative medical systems, mind-body therapies, and prayer.
The researchers concluded that some categories of complementary therapies may be more beneficial than others for older adults. They cautioned that these findings should not be interpreted as evidence for the efficacy of specific therapies. Although the findings indicate that use of certain kinds of CAM therapies is associated with better health outcomes for older adults, only clinical trials can determine the efficacy of specific therapies. The researchers also noted that this is the first longitudinal assessment (analysis of data collected from the same people at different points in time) of possible connections between complementary therapy use and health outcomes in a national sample of older adults. They recommended additional population-based research in this area.