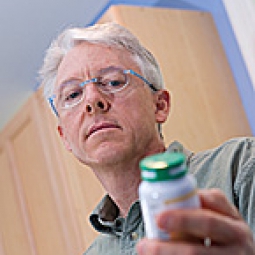 Older adults tend to take a number of different prescription medications, and according to previous studies, they also often use dietary supplements. Because of the potential for adverse interactions between prescription drugs and dietary supplements, it is important to learn as much as possible about the real-life practices of older people—the extent to which they take both prescription drugs and dietary supplements, and what kinds of drugs and supplements are being used. NCCAM-funded researchers recently analyzed the use of prescription drugs and dietary supplements in a sample of 3,070 people aged 75 and older. The data had been gathered during the Ginkgo for the Evaluation of Memory (GEM) study, a clinical trial that examined the effects of Ginkgo biloba on the development of dementia.
Key findings from the analysis:
Nearly 75 percent of the GEM study participants took at least one prescription drug and one dietary supplement. Approximately 33 percent used three or more prescription drugs and three or more supplements. Furthermore, 10 percent of the participants combined five or more prescription drugs with five or more dietary supplements.
Although supplements were taken along with all types of prescription drugs, individuals using prescribed nonsteroidal anti-inflammatory drugs (NSAIDs), thyroid drugs, and estrogens were more likely to use dietary supplements.
Individuals who used prescription drugs for high blood pressure and diabetes were less likely to use dietary supplements.
The researchers concluded that there are a substantial number of older adults who take multiple prescription drugs as well as multiple dietary supplements. Therefore, they recommend that patients discuss dietary supplement use with their health care providers. In addition, the researchers emphasized the need for further investigations to better define the clinical importance of interactions between drugs and supplements.