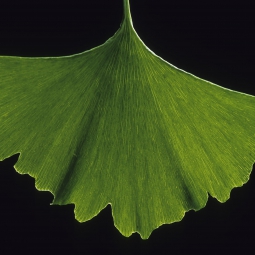 A new analysis of data from the Ginkgo Evaluation of Memory (GEM) study suggests that the herbal dietary supplement Ginkgo biloba does not reduce the risk of most cancer types in older adults. Previous research suggested ginkgo might have anti-cancer properties, and this study investigated that possibility in the largest randomized, placebo-controlled trial of ginkgo to date. The findings were published in the journal Pharmacoepidemiology and Drug Safety.
The parent study, supported in part by NCCAM, involved 3,069 participants at least 75 years old who were randomly assigned to take 120 mg of a carefully standardized ginkgo product or a placebo twice daily for 6 years. Using hospital admission and discharge records, the researchers observed 310 cancer hospitalizations among the participants—148 in the placebo group and 162 in the ginkgo group. The rate of cancer overall was similar between the two groups; however, compared with the placebo group, breast and colon cancers were increased among participants receiving ginkgo, while prostate cancer was reduced. Although these results were statistically significant, the researchers noted that the study's small number of cancer cases should be taken into account when interpreting their findings for ginkgo and specific kinds of cancer.
In addition, the scientists also point out that their research does not rule out the possibility that use of ginkgo starting at a younger age, or with a longer follow-up period might decrease cancer occurrence.
Previous results of the GEM study showed that ginkgo had no effect on dementia and that it did not prevent heart attack, stroke, or death, but may reduce the risk of developing peripheral arterial disease.