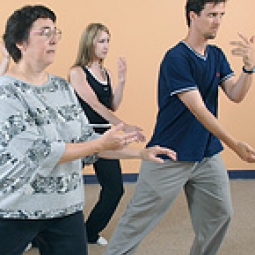 People with heart failure may benefit from practicing tai chi, according to research supported in part by NCCAM and published in the journal Sleep Medicine. Because patients with chronic heart failure often experience insomnia and impaired breathing during sleep—which could further impair heart function and lead to potentially dangerous heart rhythm disturbances—improving sleep and sleep breathing is an important goal.
Researchers at Harvard Medical School and Beth Israel Deaconess Medical Center in Boston analyzed sleep in 18 patients with chronic heart failure. All patients were on maximal medical therapy. The patients were assigned into one of two groups: a usual care group (the control) that received medication and diet/exercise counseling, or a tai chi group that received usual care plus 12 weeks of tai chi training. Compared with the usual care group, the tai chi group had significant improvements in sleep stability. The tai chi group also demonstrated significant quality-of-life improvements over the usual care group. Further, correlations were seen between improved sleep stability and improved quality of life.
The researchers concluded that a 12-week tai chi exercise program may help heart failure patients sleep better. They noted that it remains to be determined if any single component of tai chi—meditation, relaxation, or physical activity—may be responsible for the observed benefit. They suggested further research to better understand the mechanisms of tai chi's effects on sleep should include more conventional sleep testing to document sleep stages and patterns of sleep disruption.