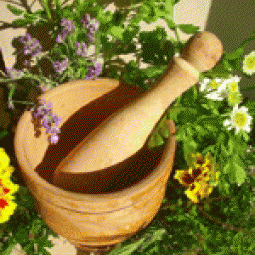 Ayurveda is a traditional medical system that originated in India. It aims to integrate and balance the body, mind, and spirit to help prevent illness and promote wellness. Potentially toxic metals sometimes are incorporated in traditional Ayurvedic medicines as part of rasa shastra—a practice which combines herbs with metals, minerals, and gems. While rasa shastra practitioners claim that such medicines are safe if properly prepared, concerns regarding safety from metal intoxication remain. In an NCCAM-funded study, researchers sought to determine how often Ayurvedic medicines sold on the Internet contain detectable levels of lead, mercury, and arsenic. They purchased products manufactured in both India and the United States and examined both rasa shastra and non-rasa shastra (herbal-only) medicines.
Using five different search engines, the researchers found 25 Web sites that sold traditional Ayurvedic herbs, formulas, and ingredients. They identified 673 products and randomly selected 230 for purchase in August–October 2005; 193 of these products were received and tested for the presence of metals.
Nearly 21 percent of the Ayurvedic medicines tested were found to contain detectable levels of lead (most common), mercury, or arsenic. All metal-containing products exceeded one or more standards for acceptable daily metal intake. The prevalence of metal-containing products did not differ significantly by country of manufacture. Rasa shastra products were more than twice as likely as non-rasa shastra products to contain metals, and several rasa shastra medicines manufactured in India could result in lead and/or mercury ingestion 100 to 10,000 times greater than acceptable limits. Although manufacturers of 75 percent of the toxic metal-containing products claimed they used Good Manufacturing Practices or metal testing, such claims were not associated with a lower prevalence of toxic metals. The investigators did note that products from members of the U.S.-based American Herbal Products Association had a lower prevalence of toxic metals.
The researchers suggest conducting observational studies to assess the lead burden and consequences resulting from use of these medications. They also suggest the creation of strictly enforced, Government-mandated, daily-dose limits for toxic metals in all dietary supplements, and requirements that all manufacturers demonstrate compliance through third-party testing. The findings also lend support to the value and importance of rigorous standards of product quality and self-regulation within the herbal medicine and dietary supplement industry.