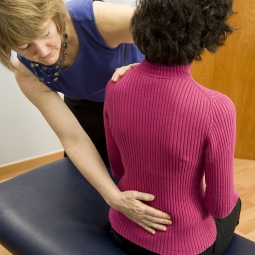 Chiropractic services for Medicare beneficiaries (those older than 65 years) with spine conditions may protect against 1-year declines in functional and self-rated health, suggest findings from a recent study funded by NCCIH (formerly NCCAM). Analysis of patient records also showed that in this sample about 35 percent of Medicare beneficiaries with spine conditions used chiropractic services. The study was published in the Journal of Manipulative and Physiological Therapeutics.
Researchers from the University of Iowa and Emory University analyzed data from Medicare beneficiaries (older than 65 years) to examine the comparative effects of chiropractic services and medical care on functional decline, self-assessed health, and patient satisfaction among 12,170 person-year observations. Researchers observed that chiropractic services were associated with a significant protective effect against 1-year decline in activities of daily living, lifting, stooping, walking, self-rated health, and worsening health. The findings also indicated that people who use chiropractic services have higher satisfaction with followup care and information provided about their diagnosis.
The researchers noted that future studies should focus on distinguishing among specific types of spine conditions to better determine the effect of chiropractic compared with medical care only on the health and well-being of this population. These findings are based on observational data, and more research is needed to determine if there is any direct, protective benefit on spinal health from chiropractic services for this age group.
Reference
Weigel PA, Hockenberry JM, Wolinsky FD. Chiropractic use in the Medicare population: prevalence, patterns, and associations with 1-year changes in health and satisfaction with care. Journal of Manipulative and Physiological Therapeutics. 2014;37(8):542–551.