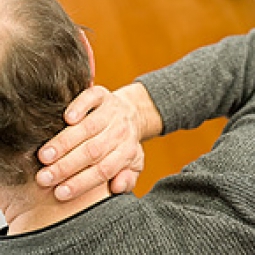 According to a recent review published by the Agency for Healthcare Research and Quality, the benefits of complementary and alternative therapies for back and neck pain—such as acupuncture, massage, and spinal manipulation—are modest in size but provide more benefit than usual medical care. While these effects are most evident following the end of treatment, the authors of the report noted that very few studies looked at long-term outcomes. Back and neck pain are important health problems that affect millions of Americans, and back pain is the most common medical condition for which people use complementary and alternative medicine (CAM).
Researchers at the University of Ottawa Evidence-Based Practice Center reviewed the scientific literature on the efficacy, safety, and cost-effectiveness of acupuncture, spinal manipulation, mobilization, and massage techniques for the management of back, neck, and thoracic pain. The researchers reviewed a total of 270 studies in adults aged 18 years and older. General findings from the analysis include the following:
CAM therapies tended to reduce pain and/or disability more than usual medical care (such as anti-inflammatory medications and exercise), physical therapy, or no treatment.
Acupuncture was associated with a significant reduction in chronic low-back pain intensity compared with placebo, but only immediately after treatment.
For chronic neck pain, acupuncture did not result in any different benefits compared with placebo (simulated acupuncture), pain medication, mobilization or traction, or laser therapy for reducing pain or disability after treatment.
Spinal manipulation was significantly more effective than placebo, or equivalent to pain medication, for reducing the intensity of low-back pain.
Mobilization was better than placebo for reducing acute or subacute neck pain, but not for chronic neck pain. Mobilization did not result in any different benefits compared with placebo in reducing low-back pain or flexibility after treatment.
Massage significantly reduced the intensity of acute or subacute low-back pain, but not chronic pain, compared with placebo.
Based on the analysis, there is some evidence showing that acupuncture was more cost-effective compared with usual care for patients with chronic back pain. The authors concluded that acupuncture is a viable option for the treatment of acute, subacute, and chronic low-back pain (specific or nonspecific cause). The one study investigating the cost-effectiveness of massage therapy found that the therapy was associated with higher costs for low-back pain compared with usual physician care. While the review found that serious adverse side effects of the three CAM therapies were rarely reported, the authors noted that definitive conclusions cannot be made, as information on side effects was not collected in a systematic manner. They noted that more well-designed studies are needed to draw more definitive conclusions regarding the benefits of CAM therapies for pain.