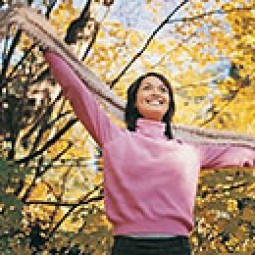 Hot flashes are a problem for many menopausal women and a common side effect of breast cancer treatment. For many breast cancer survivors, vasomotor symptoms result in discomfort, disrupted sleep, anxiety, and decreased quality of life. Hormonal (estrogen) drugs have been used to treat hot flashes, but because estrogens are associated with an increased risk of breast cancer, they usually are avoided by breast cancer survivors. Since nonhormonal treatments do not work for some women and may have adverse effects, new interventions for hot flashes are needed. Previous research has indicated that hypnosis may be a promising alternative.
In a recent study, researchers funded by the National Cancer Institute and NCCAM investigated the effects of hypnosis on hot flashes among women with a history of primary breast cancer, no current evidence of detectable disease, and at least 14 hot flashes per week over a 1-month period. Sixty women were assigned to receive either hypnosis (weekly 50-minute sessions, plus instructions for at-home self-hypnosis) or no treatment; 51 women completed the 5-week study.
The women who received hypnosis had a 68-percent reduction in self-reported hot flash frequency/severity and experienced an average of 4.39 fewer hot flashes per day. Compared with controls, they also had significant improvements in self-reported anxiety, depression, interference with daily activities, and sleep.
The researchers concluded that hypnosis appears to reduce perceived hot flashes in breast cancer survivors and may have additional benefits such as improved mood and sleep. They recommend long-term, randomized, placebo-controlled studies to further explore the benefits of hypnosis for breast cancer survivors. The researchers are currently conducting a randomized clinical trial with 200 participants.