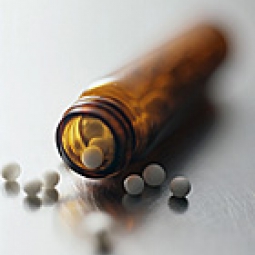 Researchers have identified a potential genetic marker of placebo response, according to a new NCCAM-funded study published in the journal PLoS. Both scientists and clinicians are interested in identifying the characteristics of people who have the potential to respond to placebo treatments, as well as those who may not. By identifying these characteristics, health care providers and researchers may be better able to manage the factors related to placebo response for patient benefit and to improve the design and interpretation of clinical studies.
It has been widely believed that dopamine (a neurotransmitter that is responsible for reward-driven learning) has a role in placebo responses. Researchers in this study investigated one genetic variation in the dopamine pathway (called functional COMT val158met polymorphism) to determine if it was a predictor of placebo effects. Genetic data were analyzed from from 104 participants with irritable bowel syndrome (IBS) from a previously reported trial. Participants were randomly assigned to receive no treatment, placebo treatment alone, or placebo treatment along with supportive patient-provider interaction.
The researchers conducted a genetic analysis of participants from blood samples collected in this study and found that the strongest placebo response occurred in participants where both copies of the gene encoding COMT had the met allele and who were in the group that received placebo treatment along with supportive patient-provider interaction. A smaller effect of the COMT met variant was observed in the group that received placebo treatment alone, and there was no effect in the no treatment group.
The researchers noted that this is the first study to demonstrate a relationship between different levels of placebo treatment and COMT genotype. The researchers also noted that identifying biological characteristics of those who may or may not respond to placebo treatment could be key to delivering personalized medicine, such as adjusting dosages of medication based on the person's potential to respond to placebo.
Reference