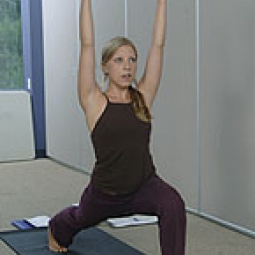 Yoga is more effective than a self-care book, but not more effective than stretching classes, in improving function and reducing symptoms of chronic low-back pain, according to a study. Results from previous smaller studies had suggested that yoga may have benefits for chronic low-back pain—a common condition lacking highly effective treatment options. Findings from the NCCAM-funded trial were published in the Archives of Internal Medicine.
Researchers randomly assigned 228 adults with chronic low-back pain to participate in 12 weekly classes of either viniyoga-style yoga (emphasizing postures, breathing exercises, and guided deep relaxation) or conventional stretching exercises, or to read a self-care book. The yoga and stretching groups were given handouts and CDs (yoga) or DVDs (stretching) and were asked to practice 20 minutes on days when classes were not scheduled. The self-care group received a book that provided information on the causes of back pain and advice on exercising, making lifestyle changes, and managing pain flare-ups. Participants' symptoms were assessed via telephone interviews upon enrollment and at 6, 12, and 26 weeks after the start of the study.
At 12 weeks, participants in the yoga group had greater improvement of symptoms and function than those in the self-care group. At 26 weeks, the yoga group sustained greater improvement in function over the self-care group. Yoga was not superior to conventional stretching exercises at any time point.
Based on these findings, the researchers suggested that the similar effects from both treatment approaches may indicate that yoga's benefits for low-back pain are largely due to the muscle stretching and strengthening rather than yoga's mental components. In addition, the researchers found that yoga was relatively safe. They concluded that physical activity that involves stretching, whether through yoga or more conventional exercises, provides moderate benefits for people with moderately impairing low-back pain. More studies are needed to evaluate the usefulness of these treatment approaches for more severely impaired patients.
References