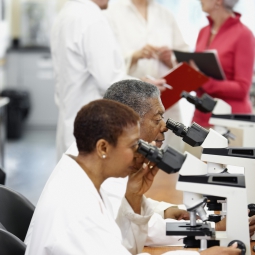 The October 2007 issue of the journal Academic Medicine, published by the American Association of Medical Colleges, highlights the results of 15 Education Project Grants funded by NCCAM.
With millions of Americans including complementary and alternative medicine (CAM) in their health care, and as CAM therapies become increasingly available as a result of consumer demand, it is critical that conventional health care professionals be familiar with the most commonly used forms of CAM. They also need to know how to obtain and share reliable evidence-based information about the safety and efficacy of CAM practices with their patients. However, there are many challenges facing health professional schools in terms of time, content, and priorities for developing curricula.
Responding to these needs, NCCAM funded 15 Education Project grants. An important goal of this novel grant program was to incorporate CAM health education information into the curricula of established medical, dental, nursing, and allied health professional schools, residency training programs, and continuing education programs.
In this issue of Academic Medicine, the education program grantees report on the tools used, challenges faced, and lessons learned in the development of CAM curricula for medical and nursing schools. It provides a resource so that institutions considering similar programs can draw from the experiences of these grantees, and helps build a sound foundation for the emerging discipline of integrative medicine.
NCCAM-funded research papers appear in Academic Medicine, Volume 82, Number 10, October 2007.