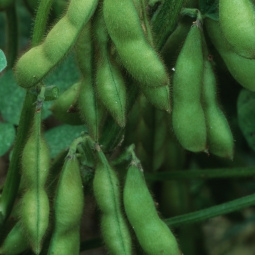 Soy protein supplements containing isoflavones do not significantly reduce the progression of atherosclerosis (build-up of plaque in the arteries) in postmenopausal women, according to a recent study published in the journal Stroke. However, a subgroup analysis of this study showed that soy supplements may benefit women who had experienced menopause within the last 5 years. Isoflavones are compounds similar to the female hormone estrogen and act like estrogen in some tissues. Previous epidemiological and laboratory research has suggested that isoflavones extracted from soybeans may have cardioprotective effects and may be a safe therapeutic alternative to hormone therapy for postmenopausal women.
Researchers randomly assigned 350 healthy postmenopausal women to receive either isoflavone-rich soy protein (25 g/day containing 91 mg aglycon isoflavone equivalents) or placebo for 2.7 years. The researchers monitored participants (e.g., dietary intake, adverse events) every month for the first 6 months and then every other month for the remainder of the trial. Once every 6 months the researchers conducted laboratory tests (e.g., ultrasound of carotid arteries, serum lipids) and administered lifestyle and medical questionnaires.
The researchers observed that compared with the placebo group, the progression rate of atherosclerosis was reduced on average by 16 percent in the soy protein supplement group, but this effect was not statistically significant. In a subgroup analysis, the researchers found that among the women who had experienced menopause within the past 5 years, the participants in the supplement group had on average a 68 percent lower progression rate of atherosclerosis than the placebo group. The supplements had no effect on the women who were more than 5 years beyond menopause. Additionally, the researchers observed no serious adverse events from the soy protein supplements for the duration of the trial.
The researchers concluded that further study is needed to determine whether a beneficial treatment effect of isoflavone-rich soy protein supplements may be limited to women who begin taking supplements within 5 years of menopause. Similarly, early postmenopausal women who start hormone therapy soon after menopause have been shown to experience reduced cardiovascular disease, whereas women who start hormone therapy later in menopause do not reap cardiovascular benefits. They also noted that the soy protein supplements had a similar beneficial effect as hormone therapy with respect to the increase in circulating high-density lipoprotein (HDL) or "good" cholesterol. More research is needed to explore these results.