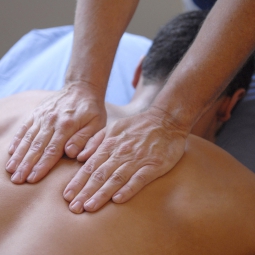 People with advanced cancer often experience pain that causes physical and emotional distress, which leads to a decrease in functional ability and quality of life. Symptom relief is an important part of end-of-life care, and small studies have suggested that massage therapy may benefit people with advanced cancer.
In a study funded in part by NCCAM, researchers investigated the benefits of massage versus simple touch therapy (placing both hands on specific body sites) in patients with advanced cancer. This multisite study—conducted at 15 U.S. hospices in the Population-based Palliative Care Research Network—included 380 participants with advanced cancer who were experiencing moderate-to-severe pain. Participants were randomly assigned to receive six 30-minute treatment sessions of either massage or simple touch therapy over a 2-week period.
Results of the study showed that both groups experienced statistically significant improvements in pain relief, physical and emotional distress, and quality of life. Immediate improvement in pain and mood was greater with massage than with simple touch; however, sustained effects of these therapies were not observed.
The researchers concluded that massage therapy may provide some immediate relief for patients with advanced cancer. They also suggest that simple touch, which can be provided by family members and volunteers, may benefit these patients.