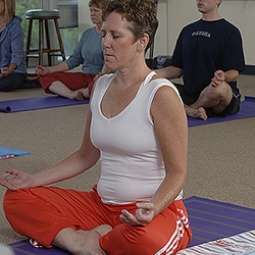 Low-back pain is a major public health issue in the United States and the main reason why people use complementary and alternative medicine (CAM). Previous research suggests that yoga, a popular CAM activity, may be beneficial for people with chronic low-back pain; however, many studies have had design flaws. NCCAM-funded researchers at West Virginia University conducted a clinical trial to evaluate the effects of Iyengar yoga on chronic low-back pain. They were also interested in yoga's effects on depression and use of pain medication.
Of the 90 people with chronic low-back pain who participated in the 24-week trial, 43 were assigned to the yoga group and attended 90-minute Iyengar yoga classes twice a week. The other 47 were assigned to the control group and used standard medical care. (Controls were "wait-listed" and offered the yoga classes after the study was completed.) The participants filled out questionnaires rating their level of pain, functional disability, and depression half way through the trial (12 weeks), immediately after (24 weeks), and at a 6-month followup. Participants were also interviewed about their use of pain medication before, during, and 6 months after the trial. Sixteen people (12 in the yoga group, 4 in the control group) did not complete the trial.
The researchers found that compared with the control group, the yoga group had significantly greater reductions in functional disability, pain, and depression, at weeks 12 and 24 and at the 6-month followup. There were no significant differences in pain medication usage between the groups; however, there appeared to be a trend toward decreased usage in the yoga group.
The researchers concluded from their results that yoga decreases functional disability, pain, and depression in people with chronic low-back pain. However, they noted potential limitations of their study (e.g., heavy reliance on self-report instruments, and differential demands on yoga vs. control groups in terms of attention and group support) and suggest design considerations for future research.
References
Williams K, Abildso C, Steinberg L, et al. Evaluation of the effectiveness and efficacy of Iyengar yoga therapy on chronic low back pain. Spine.

;34(19):2066–2076.