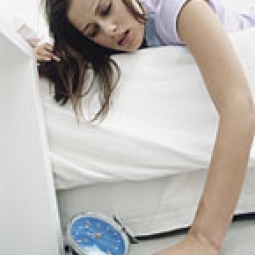 Melatonin supplements may help improve sleep in people with high blood pressure (hypertension) who take beta-blockers, according to a recent randomized controlled study. Beta-blockers are prescribed to treat a number of health problems and are the most commonly prescribed class of drugs for hypertension. However, frequent side effects of these drugs are difficulty sleeping and daytime fatigue, which may result from their suppression of melatonin, a hormone that promotes sleep. The intent of this study was to determine whether melatonin supplements for 3 weeks would improve sleep in hypertensive patients who were chronically treated with beta-blockers. Findings from this clinical trial, co-funded by NCCAM, were published in the journal Sleep.
The 16 participants enrolled in the study were adults (45 to 64 years of age) who had been diagnosed with uncomplicated essential hypertension, but were otherwise healthy. They had taken beta-blockers for at least 6 months, and some also took other antihypertensive drugs. Participants were not required to have sleep problems. Researchers randomly assigned participants to take either a 2.5 mg capsule of melatonin or a matching placebo by mouth 1 hour before bedtime, for approximately 3 weeks (20 to 28 days, depending upon laboratory and scheduling factors). An inpatient laboratory stay of 4 days in a private suite occurred at the beginning and at the end of this period, where patients were monitored for changes in sleep and daytime activities. The laboratory schedule consisted of 16 hours of scheduled wakefulness per day and 8 hours of scheduled bed rest per night at the same times as patients had maintained during the out-patient portions in the week prior to both admissions. Outside the lab, sleep and activity patterns were measured through several means, including a sensor worn on the wrist.
The researchers found that, compared with placebo, taking melatonin supplements significantly increased the participants' total sleep time by 36 minutes; increased sleep efficiency by almost 8 percent; decreased sleep onset latency (by 14 minutes) to stage 2 sleep; and increased the length of sleep by 41 minutes in stage 2 (though not in other stages). In addition, a number of negative effects that can occur with chronic use of prescription sleep aids did not occur with melatonin. Patients did not experience tolerance (lowering of effectiveness following chronic use) or rebound sleep disturbance (sleep problems that develop after stopping a sleep aid), nor did the researchers find a decrease in slow-wave and/or REM sleep. Since beta-blockers must typically be taken for life, these benefits would be significant advantages.
The researchers acknowledged limitations in the study, particularly the small size and the unavailability of pre-study measurements (prior to beta-blocker therapy). However, investigators suggested that melatonin may have profound potential benefits in improving sleep, not only for the more than 20 million people taking beta-blockers, but also for patients with other health conditions and risks associated with sleep disturbances.
Reference