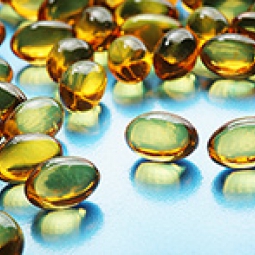 Results of a recent study in mice suggest that omega-3 polyunsaturated fatty acids (PUFAs) can target immune cells—specifically B cells, a type of white blood cell—and enhance immunity. The researchers, from East Carolina University and Michigan State University, suggest the study findings could have implications for helping people who are obese fight infections. The study, funded in part by NCCAM, appears in the Journal of Lipid Research.
Omega-3 fatty acids are a group of PUFAs that are important for a number of functions in the body. Some types of PUFAs are found in fatty fish and shellfish, and others in vegetable oils; they are also available as dietary supplements. A growing body of evidence on PUFAs, mainly from animal studies, suggests that they suppress inflammation and modify the immune system.
The researchers tested for various impacts of omega-3 PUFAs on B cells—and on their specific subtypes—and antibodies. First, they fed mice a control diet (low fat, enriched with soybean oil) or a diet enriched with fish oil for 4 weeks. In the last week, they injected mice either with TNP-LPS (a type of lipopolysaccharide, which elicits an immune response in mice) or a control injection of saline. In the second phase, they fed the mice either a lean diet or one designed to add significant weight (in this case, a 22 percent weight gain) for 10 weeks. The two types of injections were again administered.
After the team studied samples from the mice—focusing on B cells and antibodies—they found that omega-3 PUFAs in these models targeted B cells and boosted B cell immunity in lean and obese mice. They also found that omega-3 PUFAs affected levels of a key antibody, immunoglobulin M (IgM).
Because obesity is associated with poor immune responses, this research points to the possibility of using omega-3 PUFAs to enhance immune response in obese people, as well as those who have diseases or conditions in which immune responses are mediated by B cells. However, further research is needed, including on whether a high-fat diet or obesity itself is responsible for some of the observed effects.
Reference