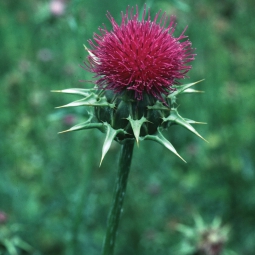 Results of a recent study suggest that a new technique to distinguish between nearly identical compounds in the milk thistle plant may allow researchers to study highly complex natural products more powerfully and efficiently than before. The NCCAM-funded study, conducted by researchers at the University of Illinois at Chicago, the University of North Carolina at Greensboro, and Dominican University in River Forest, Illinois, appears in The Journal of Organic Chemistry.
Nearly 18 percent of American adults use natural products such as herbs and botanicals, often without much evidence to support their use. For researchers trying to determine whether a natural product has a potential benefit or poses a safety issue, the complex chemical mixtures that natural products contain can present a real challenge, particularly when some of the chemical components are so similar that even sensitive tests fail to tell them apart.
The researchers focused on four components, or isomers, of milk thistle. Isomers have the same chemical formula—the same elements in the same proportions—but different molecular arrangements and properties. These isomers, called silybin A, silybin B, isosilybin A, and isosilybin B, have nearly identical chemical structures, which, along with their high degree of complexity, has made them very difficult to study in the laboratory.
The research team began their effort to tease apart these chemicals by first using a technology called nuclear magnetic resonance (NMR) spectroscopy to identify the "resonance" patterns for each of these four substances—in other words, the frequencies at which their nuclei, placed in a magnetic field, absorb and re-emit electromagnetic radiation. They then used a computational technique called HiFSA (1H iterative Full Spin Analysis) to establish detailed chemical "fingerprints" for each of the four isomers. HiFSA is an iterative process in which small adjustments are made to mathematical models until they exactly match the experimental resonance patterns. With the HiFSA models in place, the investigators were able to "deconstruct" complex milk thistle extracts containing mixtures of these compounds to quantitate with high accuracy the amount of each compound in the mixture.
Beyond learning more about these components of milk thistle, the authors note the potential in this method for advancing understanding of complex NMR signals and exploring other difficult, often hidden, problems related to organic molecules (including in natural products).
Reference