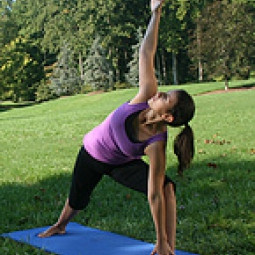 Iyengar yoga may help improve fatigue and vigor in breast cancer survivors, according to an NCCAM-funded study published in the journal Cancer. Data from the National Cancer Institute suggest that fatigue may be a significant issue long into cancer survivorship.
Researchers from the University of California at Los Angeles randomly assigned 31 breast cancer survivors (all postmenopausal women) with persistent, cancer-related fatigue to participate for 12 weeks in either Iyengar yoga classes targeted at improving fatigue or health education classes. Iyengar yoga is a type of hatha yoga involving body postures and breath control; the yoga classes were conducted for 90 minutes twice a week. The health education classes consisted of lectures on topics such as cancer-related fatigue and psychosocial issues in cancer survivorship and were conducted for 120 minutes once a week. Neither group was instructed to do home practice or reading.
At 12 weeks, and 3 months after the treatment was completed, participants in the yoga group reported significant improvements in the severity of fatigue, compared with those in the health education group. Similar benefits were observed for participants' vigor; the yoga group had a significant increase in vigor compared with the health education group during this time period. Both groups also had comparable declines in depressive symptoms and perceived stress by the 3-month follow-up; however, no significant changes in sleep or physical performance were observed.
The researchers noted several limitations of the study, including the small number of participants and the restriction of participants to women with a diagnosis of early stage disease and who had completed cancer treatment. Therefore, the beneficial effects from this study may not necessarily apply to breast cancer survivors with more advanced disease or who are currently undergoing treatment. Further, the researchers suggested that because the total number of class hours for yoga (36 hours) was greater than that for health education (24 hours), it is possible that the benefits observed in the yoga group may be attributable in part to the higher number of participation hours. The researchers concluded that future studies are needed and noted that yoga's effects on the immune and neuroendocrine systems are currently being investigated among the participants in this study.