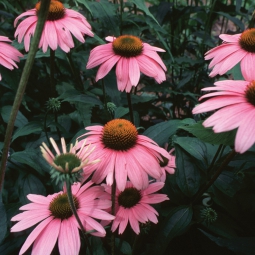 The herbal supplement echinacea (Echinacea purpurea, Echinacea angustifolia) did not significantly decrease the duration and severity of the common cold, compared with placebo, in a recent study published in the Annals of Internal Medicine. Echinacea is frequently used for the treatment of the common cold. The study is consistent with a large body of research indicating that effects of echinacea on the common cold are, at most, modest.
Researchers from the University of Wisconsin conducted a randomized controlled trial in which they studied the potential benefits of echinacea as a treatment of the common cold. (This study is one part of an NCCAM-funded research project, "Physician, Echinacea, and Placebo: A Randomized Controlled Trial in a Common Cold Model," which also examined placebo effects and physician-patient interactions. The results of other portions of the study will be published at a later date.) The researchers randomly assigned 713 study participants 12 to 80 years of age into four groups to receive no pills, placebo (blinded), echinacea (blinded), or echinacea (unblinded). All had cold symptoms. Participants received 2‑tablet doses 4 times the first day, followed by 1 tablet 4 times daily for the next 4 days. (The echinacea tablets contained the equivalent of 675 mg of E. purpurea root and 600 mg of E. angustifolia root.) The duration and severity of the cold symptoms were measured twice a day, for a maximum of 2 weeks, using a participant self-rating questionnaire.
Participants who received echinacea (blinded or unblinded) had no significant improvement in either duration or severity of illness compared with those who received no pills or placebo. Although the authors noted that there were small trends in the direction of a benefit from echinacea—an average half-day reduction in duration, or an approximate 10 percent decrease in severity—the researchers concluded that echinacea, at this dose formulation, does not significantly change the course of the common cold.
References
Barrett B, Brown R, Rakel D, et al. Echinacea for treating the common cold. Annals of Internal Medicine.

;153:769–777.