Lanay M. Mudd, Ph.D.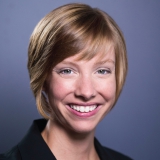 Division of Extramural Research
National Center for Complementary and Integrative Health (NCCIH)
6707 Democracy Boulevard II, Suite 401 Bethesda, MD 20892 (Courier Service - 20817)
Lanay M. Mudd, Ph.D., joined NCCIH as a program director in July 2015. Her grant portfolio centers on clinical studies of movement meditation, including yoga, tai chi, and qi gong. Dr. Mudd's interests include physical activity measurement, as well as the use of mind and body interventions for perinatal health conditions and for promoting healthy behaviors. She is also NCCIH's representative to the NIH Common Fund initiative on Molecular Transducers of Physical Activity in Humans.
Dr. Mudd earned a dual-major doctoral degree in kinesiology and epidemiology, and completed postdoctoral training in perinatal epidemiology at Michigan State University. Prior to joining NCCIH, she was an assistant professor of kinesiology at Michigan State University, where her research investigated the health benefits of physical activity during pregnancy and the development of interventions to improve health behaviors among pregnant women. She has published in a variety of peer reviewed journals, including Medicine & Science in Sports & Exercise, Pediatrics, Journal of Physical Activity & Health, and Preventive Medicine.
Dr. Mudd's Active Funding Opportunity Announcements
| Title | NIH Guide # | Released | Expires | Contact | |
| --- | --- | --- | --- | --- | --- |
| Ruth L. Kirschstein National Research Service Award (NRSA) Individual Postdoctoral Fellowship (Parent F32) | PA‑19‑188 | 02/22/19 | 01/08/22 | Lanay M. Mudd, Ph.D. | |
| Ruth L. Kirschstein National Research Service Award (NRSA) Individual Fellowship for Students at Institutions Without NIH-Funded Institutional Predoctoral Dual-Degree Training Programs (Parent F30) | PA‑19‑192 | 02/22/19 | 01/08/22 | Lanay M. Mudd, Ph.D. | |
| Ruth L. Kirschstein National Research Service Award (NRSA) Individual Predoctoral Fellowship (Parent F31) | PA‑19‑195 | 02/22/19 | 01/08/22 | Lanay M. Mudd, Ph.D. | |
| Ruth L. Kirschstein National Research Service Award (NRSA) Individual Fellowship for Students at Institutions with NIH-Funded Institutional Predoctoral Dual-Degree Training Programs (Parent F30) | PA‑19‑191 | 02/22/19 | 01/08/22 | Lanay M. Mudd, Ph.D. | |
| Research Enhancement Award Program (REAP) for Health Professional Schools and Graduate Schools (R15 Clinical Trial Not Allowed) | PAR‑19‑134 | 12/21/18 | 01/08/22 | Lanay M. Mudd, Ph.D. | |
| Midcareer Investigator Award in Patient-Oriented Research (Parent K24 Independent Clinical Trial Not Allowed) | PA‑19‑122 | 12/20/18 | 01/08/22 | Lanay M. Mudd, Ph.D. | |
| Mentored Research Scientist Development Award (Parent K01 - Independent Clinical Trial Not Allowed) | PA‑19‑126 | 12/20/18 | 01/08/22 | Lanay M. Mudd, Ph.D. | |
| Mentored Patient-Oriented Research Career Development Award (Parent K23 Independent Clinical Trial Required) | PA‑19‑118 | 12/20/18 | 01/08/22 | Lanay M. Mudd, Ph.D. | |
| NIH Pathway to Independence Award (Parent K99/R00 - Independent Clinical Trial Not Allowed) | PA‑19‑130 | 12/20/18 | 01/08/22 | Lanay M. Mudd, Ph.D. | |
| Mentored Research Scientist Development Award (Parent K01 - Independent Clinical Trial Required) | PA‑19‑127 | 12/20/18 | 01/08/22 | Lanay M. Mudd, Ph.D. | |
| Mentored Patient-Oriented Research Career Development Award (Parent K23 Independent Clinical Trial Not Allowed) | PA‑19‑119 | 12/20/18 | 01/08/22 | Lanay M. Mudd, Ph.D. | |
| Mentored Clinical Scientist Research Career Development Award (Parent K08 Independent Clinical Trial Required) | PA‑19‑116 | 12/20/18 | 01/08/22 | Lanay M. Mudd, Ph.D. | |
| NIH Pathway to Independence Award (Parent K99/R00 - Independent Clinical Trial Required) | PA‑19‑129 | 12/20/18 | 01/08/22 | Lanay M. Mudd, Ph.D. | |
| Midcareer Investigator Award in Patient-Oriented Research (Parent K24 Independent Clinical Trial Required) | PA‑19‑121 | 12/20/18 | 01/08/22 | Lanay M. Mudd, Ph.D. | |
| Mentored Clinical Scientist Research Career Development Award (Parent K08 Independent Clinical Trial Not Allowed) | PA‑19‑117 | 12/20/18 | 01/08/22 | Lanay M. Mudd, Ph.D. | |
| NIH Pathway to Independence Award (Parent K99/R00 Independent Basic Experimental Studies with Humans Required) | PA‑19‑090 | 11/28/18 | 01/08/22 | Lanay M. Mudd, Ph.D. | |
| Mentored Research Scientist Development Award (Parent K01 - Independent Basic Experimental Studies with Humans Required) | PA‑19‑084 | 11/28/18 | 01/08/22 | Lanay M. Mudd, Ph.D. | |
| Mentored Patient-Oriented Research Career Development Award (Parent K23 Independent Basic Experimental Studies with Humans Required) | PA‑19‑087 | 11/28/18 | 01/08/22 | Lanay M. Mudd, Ph.D. | |
| Midcareer Investigator Award in Patient-Oriented Research (Parent K24 - Independent Basic Experimental Studies with Humans Required) | PA‑19‑088 | 11/28/18 | 01/08/22 | Lanay M. Mudd, Ph.D. | |
| Administrative Supplements for Complementary Health Practitioner Research Experience (Admin Supp Clinical Trial Optional) | PA‑19‑031 | 10/18/18 | 10/02/21 | Lanay M. Mudd, Ph.D. | |
| Research Supplements to Promote Diversity in Health-Related Research (Admin Supp - Clinical Trial Not Allowed) | PA‑18‑906 | 08/22/18 | 09/08/21 | Lanay M. Mudd, Ph.D. | |
| Chronic, Non-Communicable Diseases and Disorders Across the Lifespan: Fogarty International Research Training Award (NCD-LIFESPAN) (D43)(Clinical Trial Optional) | PAR‑18‑901 | 08/13/18 | 11/14/20 | Lanay M. Mudd, Ph.D. | |
| Short-term Mentored Career Enhancement Awards in Mobile and Wireless Health Technology and Data Analytics: Cross-Training at the intersection of Behavioral and Social Sciences and STEM Disciplines (K18 Independent Clinical Trial Required) | PAR‑18‑882 | 07/31/18 | 07/13/20 | Lanay M. Mudd, Ph.D. | |
| Short-term Mentored Career Enhancement Awards in Mobile and Wireless Health Technology and Data Analytics: Cross-Training at the intersection of Behavioral and Social Sciences and STEM Disciplines (K18 Independent Clinical Trial Not Allowed) | PAR‑18‑881 | 07/31/18 | 07/13/20 | Lanay M. Mudd, Ph.D. | |
| Diet and Physical Activity Assessment Methodology (R01 Clinical Trial Not Allowed) | PA‑18‑856 | 07/17/18 | 09/08/21 | Lanay M. Mudd, Ph.D. | |
| Improving Patient Adherence to Treatment and Prevention Regimens to Promote Health (R01 Clinical Trial Optional) | PA‑18‑722 | 03/28/18 | 05/08/21 | Lanay M. Mudd, Ph.D. | |
| Academic Research Enhancement Award for Undergraduate-Focused Institutions (R15 Clinical Trial Not Allowed) | PAR‑18‑714 | 03/14/18 | 05/08/21 | Lanay M. Mudd, Ph.D. | |
| Administrative Supplements to Existing NIH Grants and Cooperative Agreements (Parent Admin Supp - Clinical Trial Optional) | PA‑18‑591 | 01/25/18 | 01/26/21 | Lanay M. Mudd, Ph.D. | |
| Research Supplements to Promote Re-Entry into Biomedical and Behavioral Research Careers (Admin Supp - Clinical Trial Not Allowed ) | PA‑18‑592 | 01/25/18 | 09/08/21 | Lanay M. Mudd, Ph.D. | |
| Advancing the Science of Geriatric Palliative Care (R01 - Clinical Trial Optional) | PA‑18‑502 | 12/15/17 | 05/08/20 | Lanay M. Mudd, Ph.D. | |
| Feasibility Clinical Trials of Mind and Body Interventions for NCCIH High Priority Research Topics (R34 - Clinical Trials Required) | PAR‑18‑417 | 11/29/17 | 09/08/20 | Lanay M. Mudd, Ph.D. | |
| Ruth L. Kirschstein National Research Service Award (NRSA) Short-Term Institutional Research Training Grant (Parent T35) | PA‑18‑404 | 11/21/17 | 01/08/21 | Lanay M. Mudd, Ph.D. | |
| Ruth L. Kirschstein National Research Service Award (NRSA) Institutional Research Training Grant (Parent T32) | PA‑18‑403 | 11/21/17 | 01/08/21 | Lanay M. Mudd, Ph.D. | |
| NCCIH Mind and Body Clinical Trial Cooperative Agreement (U01 Clinical Trial Required) | PAR‑18‑118 | 11/02/17 | 06/30/20 | Lanay M. Mudd, Ph.D. | |
| Testing Interventions for Health-Enhancing Physical Activity (R01 - Clinical Trial Optional) | PAR‑18‑324 | 10/17/17 | 01/08/21 | Lanay M. Mudd, Ph.D. | |
This page last modified November 23, 2016