On this page: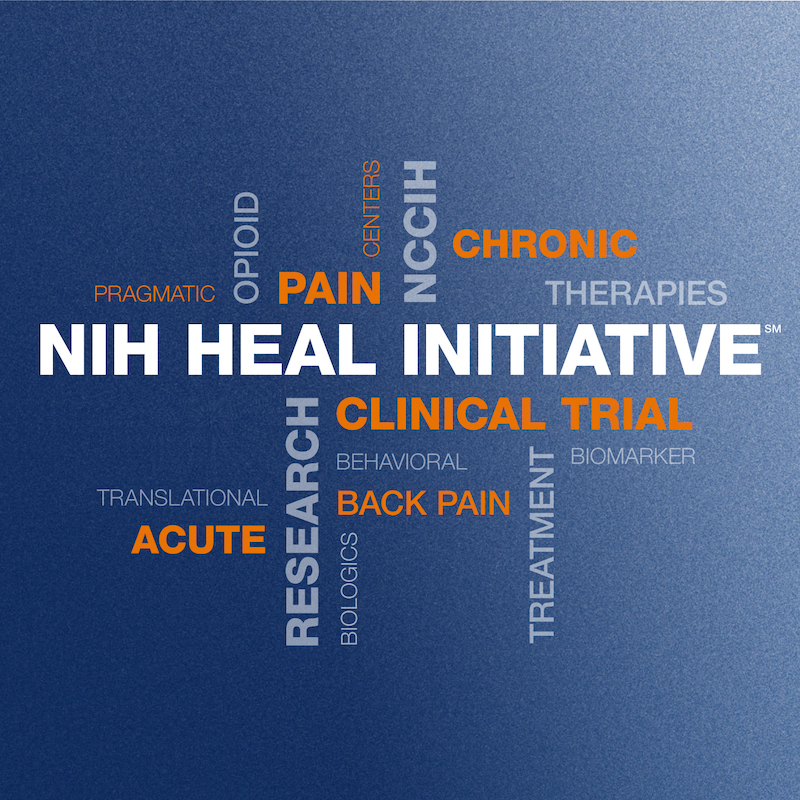 Blogs
What is NCCIH's Role in HEAL?
The National Center for Complementary and Integrative Health (NCCIH) is an active participant in the NIH HEAL (Helping to End Addiction Long-termSM) Initiative — a trans-NIH effort to accelerate scientific solutions to stem the national public health crisis related to opioids. In concert with other NIH institutes and centers (ICs), NCCIH is working to identify and fund research in the two priority areas outlined in the NIH HEAL Initiative scientific research plan:
Improve treatments for opioid misuse and addiction through identifying new treatment options for addiction and optimizing effective existing therapies;
Enhance pain management via improved understanding of chronic pain and developing new, nonaddictive pain treatments.
During Fiscal Year 2019, the center will publish several funding opportunity announcements (FOAs) related to these priority areas. NCCIH is well positioned to develop initiatives because these areas have been priorities for the Division of Extramural Research and Division of Intramural Research (particularly with regard to pain management).
To meet the expansive goals of the NIH HEAL Initiative, multiple ICs are providing expertise and leadership for specific components. NCCIH is leading or co-leading several initiatives (described in more detail below). We are also signing on to FOAs led by other ICs that will support research related to our mission. We want to ensure that our research community is aware of all new funding opportunities.
NCCIH Led or Co-Led Initiatives
Pragmatic and Implementation Studies for the Management of Pain to Reduce Opioid Prescribing (PRISM)
The PRISM program will support multiple trials to conduct research embedded in health care systems to collect "real world" data to determine the effectiveness of interventions for pain and assess the impact of implementing interventions to improve pain management. In FY2019, the PRISM program will 1) launch a pragmatic trial of acupuncture for chronic low back pain in older adults in collaboration with The Centers for Medicare & Medicaid Services (CMS); and 2) support pragmatic trials and implementation studies conducted within partnering health care systems to improve adherence to evidence-based pain management guidelines or implement evidence-based pain interventions into care delivery.
Medicare National Coverage Analysis Tracking Sheet for Acupuncture for Chronic Low Back Pain (CMS) – Public comments accepted until February 14, 2019
Behavioral Research to Improve Medication Assisted Treatment (BRIM)
To test the effectiveness of combining evidence-based behavioral interventions used in novel ways in combination with medication assisted treatment (MAT), NIH will study whether select behavioral interventions such as mindfulness meditation, cognitive behavioral therapy, or multi-disciplinary rehabilitation improve adherence to MAT, improve MAT outcomes, and reduce relapse in individuals seeking treatment for opioid use disorder (OUD). This research will include large-scale effectiveness trials for behavioral interventions as part of MAT; and integrate behavioral interventions into ongoing studies that focus on improving MAT access and delivery.
RFA-AT-19-007 (limited competition)
The NIH Back Pain Research Consortium (NIH BACPAC)
NIH BACPAC is a new patient-centric translational research initiative that will address the need for better therapies for low-back pain. This initiative will focus on translational and clinical research for discovery of low-back pain mechanisms and for identification and testing of new interventions targeted to the individual patient. NCCIH's specific interests within this initiative are (1) better understanding mind and body mechanisms of back pain and how complementary health approaches may modulate these mechanisms, and (2) how complementary approaches might be incorporated into multimodal treatment plans for low-back pain, including ways to individualize therapy.
Notices
Funding Opportunities
Background & Related Resources
Contact Information
For more information about funding opportunities related to the HEAL Initiative, contact NCCIHHEAL@mail.nih.gov.