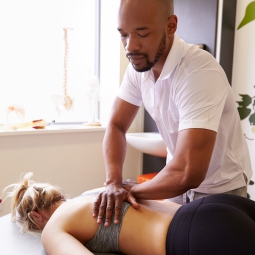 Clinical Guidelines, Scientific Literature, Info for Patients:
Low-Back Pain
Several reviews of research have found weak evidence that massage may be helpful for low-back pain. Clinical guidelines issued by the American College of Physicians in 2017 included massage as an option for treating acute/subacute low-back pain but did not include massage therapy among the options for treating chronic low-back pain.
What Does the Research Show?
Neck and Shoulder Pain
Massage therapy may provide short-term benefits for neck or shoulder pain.
What Does the Research Show?
Osteoarthritis
Only a few studies have examined massage therapy for osteoarthritis, but results of some of these studies suggest that massage may have short-term benefits in relieving knee pain.
What Does the Research Show?
Headache
Only a small number of studies have looked at massage for headache, and results have not been consistent.
What Does the Research Show?
Cancer Symptoms and Treatment Side Effects
With appropriate precautions, massage therapy can be part of supportive care for cancer patients who would like to try it; however, the evidence that it can relieve pain and anxiety is not strong. 2014 clinical practice guidelines for the care of breast cancer patients include massage as one of several approaches that may be helpful for stress reduction, anxiety, depression, fatigue, and quality of life.
What Does the Research Show?
Fibromyalgia
Results of research suggest that massage therapy may be helpful for some fibromyalgia symptoms.
What Does the Research Show?
HIV/AIDS
There is some evidence that massage therapy may have benefits for anxiety, depression, and quality of life in people with HIV/AIDS, but the amount of research and number of people studied are small.
What Does the Research Show?
Infant Care
There is some evidence that premature infants who are massaged may have improved weight gain. No benefits of massage for healthy full-term infants have been clearly demonstrated.
What Does the Research Show?
Safety
The risk of harmful effects from massage therapy appears to be low. However, there have been rare reports of serious side effects, such as blood clot, nerve injury, or bone fracture. Some of the reported cases have involved vigorous types of massage, such as deep tissue massage, or patients who might be at increased risk of injury.
References