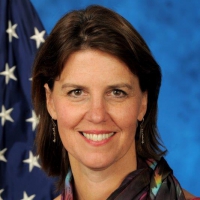 Tracy W. Gaudet, M.D., Executive Director, Office of Patient Centered Care and Cultural Transformation, Veterans Health Administration, U.S. Department of Veterans Affairs
Date:
November 29, 2018 -

10:00a.m. ET

to

11:00a.m. ET
Add to Calendar
DD/MM/YYYY
29/11/2018 10:00 AM
29/11/2018 11:00 AM
Transforming Veterans' Health: Implementing a Whole Health System of Care
Lipsett Amphitheater, Building 10, NIH Campus, Bethesda, MD.Remote Viewing Options: NIH Videocast or Facebook Live
This presentation, by Dr. Tracy Gaudet, describes a new patient-centered health care model especially for military veterans with chronic diseases and conditions.
aguOAhjQLzBHdmKhDmXr23111
Event Description
The challenges for the American health care system have been massive in recent years, including for the system that cares for our military veterans. A key cause is the "disease-driven approach to care" (National Academy of Medicine). One of the results, many say, is the opioid crisis. Could we approach health care differently? The U.S. Department of Veterans Affairs (VA) has been on the cutting edge of such change, including by designing and implementing a new, patient-centered model especially for patients with chronic diseases and conditions. The model simultaneously provides opportunities to research the effectiveness of health services. This "Whole Health System" is now in place at 18 flagship VA facilities and is showing transformative clinical results. Its components include empowering patients; developing a personal health plan; offering a Wellbeing Program of self-care, skill building, and support; and treating with a holistic approach that includes non-drug complementary and integrative therapies. Dr. Tracy Gaudet of the VA will discuss her agency's journey to and with this new model, which also shows exciting potential for the Nation.
The lecture is supported by the Foundation for the National Institutes of Health with a generous gift from Bernard and Barbro Osher.